Even with the teases and hints that a sequel to Shaq Fu might be in the works, and even after Shaq himself said so in an interview, I still didn't think we'd actually get one, but that's exactly what's happening. Over at Indiegogo right now is Shaq Fu: A Legend Reborn and it's asking for $450,000.
The original Shaq Fu was a 2D fighter released for the Mega Drive and SNES back in 1994 and by all accounts, it sucked. Horrible controls, ridiculous story and clunky gameplay, meant it was hated at the time and by reviewers since, so much so in-fact that a campaign was launched to destroy all original cartridges.
[yframe url='http://www.youtube.com/watch?v=rfLuPc6bOGE']
However clearly Shaq thinks there's some blood in that stone and perhaps he's right, maybe there is a way to make something good from something so awful. At least that's what he's hoping to do by teaming up with Big Deez Productions (which I assume is a new company as I can find nothing about it online) to make a contemporary 2.5D brawler featuring Shaq himself, in a Shaq Fu sequel.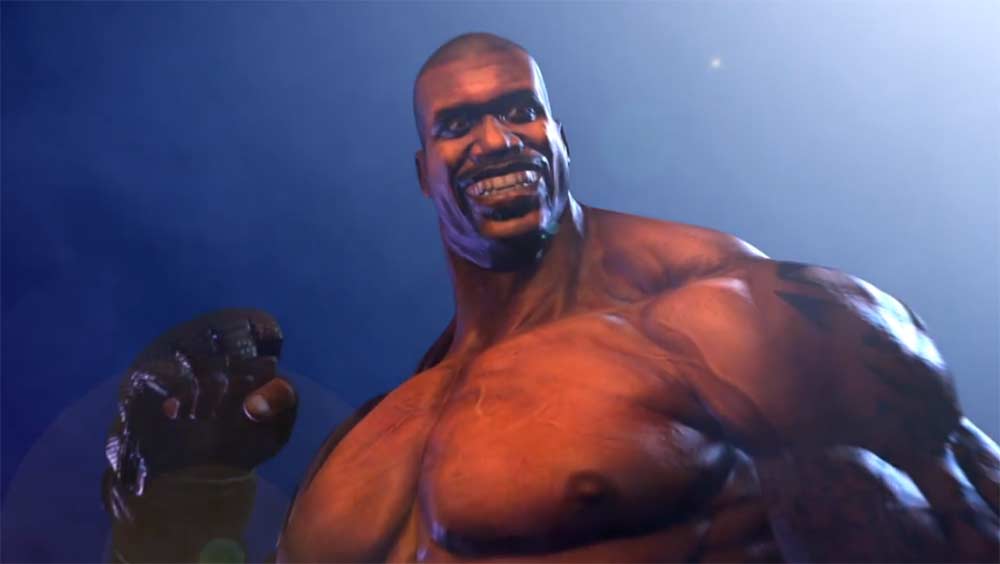 "I'm back, with a lower body fat than ever."
Promising not to "Fu it up," again, Shaq and co are looking to create something that features RPG progression, power ups, new moves and combo learning, co-op play, thousands of ninjas and other enemies to batter and big incentives for those who help fund it. In the low end there's of course copies of the game, limited beta access, DLC passes and a Tshirt, but at the top end you can meet up with the man himself, play ball with him at his house, go to dinner with him – if you're a Shaq fan,this could be your big chance to meet the big man.
[yframe url='http://www.youtube.com/watch?v=GfEqhmkatog']
While you might look at Shaq's suggested $350 million odd net worth and wonder why he doesn't just fund the development himself and of course he absolutely could, there's no doubt the game is going to cost a lot more than $450,000 to make. That means this campaign is more to gauge interest and possibly provide an incentive to bring on more investors or just show that it's worth Shaq and the developer investing their own cash.
KitGuru Says: The public gets used as guinea pigs all the time, Shaq Fu isn't something to be worried about in that respect.