Total War: Warhammer is a match up of two entities that seemed destined to cross paths at some point. The epic, sprawling nature of the Total War games is a great fit for the chaotic maelstrom of politics and war in the Old World and yet it's taken over a decade and a half for that to happen. Still, next year we are finally getting a true taste of what Creative Assembly has put together and if you want to reserve your copy now, there's some special editions that come with some neat extras.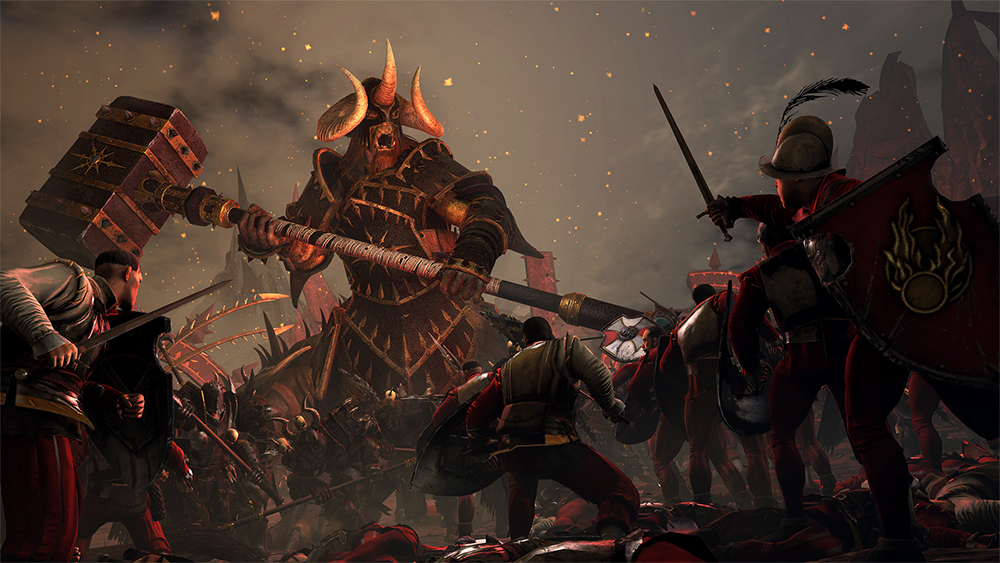 Firstly, for anyone that pre-orders the game before its 26th April 2016 launch date, they'll unlock the game's first DLC for free on release day: the Chaos Warriors race pack. That content comes with three new Legendary Lords to command on the battlefield, as well as the ability to select Chaos Warriors as your race in the grand campaign. They come with unique mounts, units and creatures and there's an individual quest chain for each lord too.
[yframe url='http://www.youtube.com/watch?v=MC1Y2pFP2ls']
But perhaps you want to do more than just pre-order a game that you'll have no problem buying after its release if you wait for it. For you, there's also some more advanced pre-purchases that can be made: like the limited edition of the game, which comes with the Chaos race pack additions, as well as an embossed metal casing and mini-strategy guide.
For the truly dedicated and deep pocketed, Creative also has the High King Edition, which comes with all of the above, as well as several real world items. Firstly is the Grudge Ring, which with a rotating inner band and six notches, can double as a die – apparently. There's also a Slayer Whetstone Pendant, which can actually be used as a whetstone to sharpen knives and other implements and a Dwarven drinking horn should you get thirsty on your gaming travels.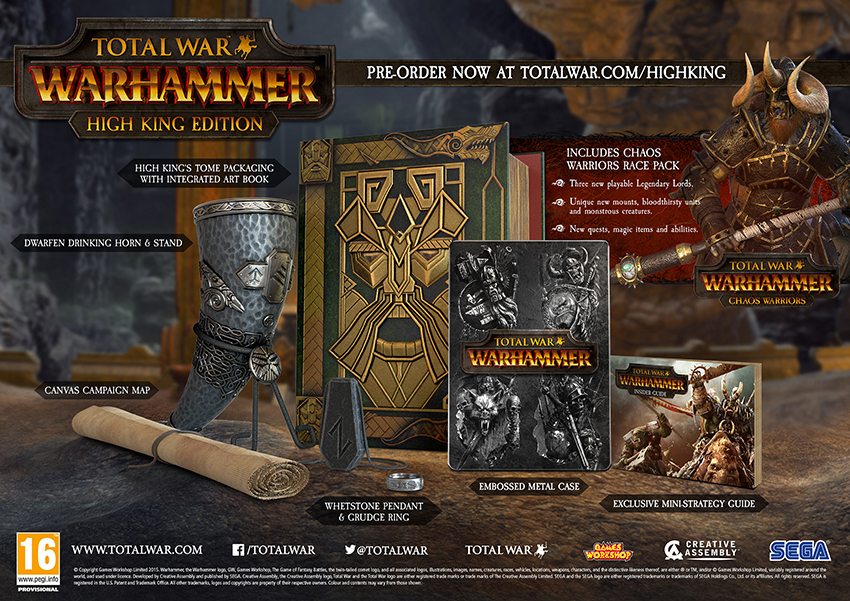 Other extras include a canvas map of the Old World, an artbook and the metal case from the limited edition.
All of these versions can be pre-ordered from Creative's Total War store, as well as some select retailers, as per AGB.
KitGuru Says: Cool as the game looks, I'm pretty sure Creative Assembly is playing with fire by releasing a full DLC race on day one and using it to court pre-orders. That's not exactly a best loved practice in gaming at the moment.