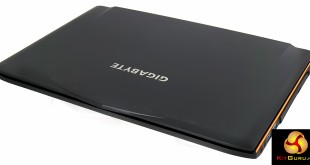 Gigabyte has loaded the P55W v4 with a stack of quality hardware that should appeal to gamers who want decent performance without blowing a fortune. The CPU is Intel Broadwell Core i7-5700HW allied to 8GB of DDR3L and the graphics chip is Nvidia GTX 970M. The 15.6-inch screen is a Full HD 1920×1080 IPS panel, and when you add that lot together you've got all the hardware you need to play modern games at decent frame rates.
Watch via our VIMEO Channel (Below) or over on YouTube at 1080p50 HERE.
Gigabyte P55W v4 Specification:
Display: 15.6″ FHD IPS Wide Viewing Angle (1920 x 1080)
Processor Type: Intel Core i7 5700HQ 2.70ghz (3.5ghz Turbo Mode)
Hard Drive Supplied: 1x 1TB
Solid State Drive: Lite-On 128GB
Memory Supplied: 1x 8GB 1600mhz (max support 16GB)
Operating System: Windows 8.1
Graphics Chipset: NVIDIA GeForce GTX 970M (3GB)
Chipset: Intel HM97 Express
Optical Drive: DVD Supermulti R/W
Microphone: Built-in
Wireless: Intel Wireless-N 7265 802.11 b/g/n
Bluetooth: v4.0
USB 3.0 Port(s): 4
HDMI Port(s): 1
VGA Port(s): 1
Microphone Jack(s): 1
Headphone Jack(s): 1
LAN Port(s): 1
Card Reader: SD
Web Camera: HD type
Dimension: 380*269*26 -34mm
Battery: Li-Polymer, 57Wh
Product Weight (g): 2.5kg with HDD (2.4kg without HDD)
Warranty: 2 Years
No doubt you're thinking 'What, Broadwell and DDR3?' and that's a fair point and Skylake and DDR4 would doubtless give more performance – but it would come at a higher cost. P55W isn't exactly cheap at £1150 but neither will it break the bank, and that is of keen interest for gamers on a budget.
This spirit of compromise is a constant theme with the P55W so there is a 128GB M.2 SSD to ensure the laptop boots fast and is responsive and it is backed up with a 1TB hard drive. Clearly it would be more elegant if Gigabyte had used a 256GB or 512GB SSD but that would have raised the price significantly.
It is less obvious why Gigabyte has specified Intel Wireless-N Wi-Fi as that can surely save very little money compared to 802.11/ac, and the retro theme continues with the inclusion of a DVD Supermulti drive. The P55W makes no claim to be a thin and light laptop and instead sits squarely in the middle ground at 2.5kg and a thickness of 34mm at the thickest point.
Gigabyte has used the size of the chassis to good effect by installing two USB 3.0 ports on the left side and two more on the right side. It would be nice to also see a Type C connector but you're out of luck on this model. Other ports and connectors include headset jacks, Ethernet, VGA and an SD card reader on the front.
We asked Gigabyte about the specification of the HDMI port and were told that P55 v4 has HDMI v1.4 while the forthcoming P55W v5 (Skylake) will have HDMI v2.0. While this is technically better it doesn't make much difference in the real world as you won't be doing much 4K gaming with GTX 970M graphics. It would have been pleasing to see either Thunderbolt or DisplayPort however it is clear that Gigabyte has deliberately shied away from cutting edge technology on the P55W v4, presumably to keep the price lower.
Initial impressions when you turn the laptop on are less than ideal as the screen is covered with a number of icons that give the impression that Gigabyte has loaded the P55W v4 with bloatware, however this is not an accurate picture. Gigabyte LAN Optimizer and Smart USB Backup are par for the course but SmartManager and Smart Update are both excellent.
These two utilities work like a combination of software we have seen from Lenovo and MSI. The first manages short-cuts for screen brightness, speaker volume, Wi-Fi and that sort of thing while the second handles driver and BIOS updates. Both work really well.
Testing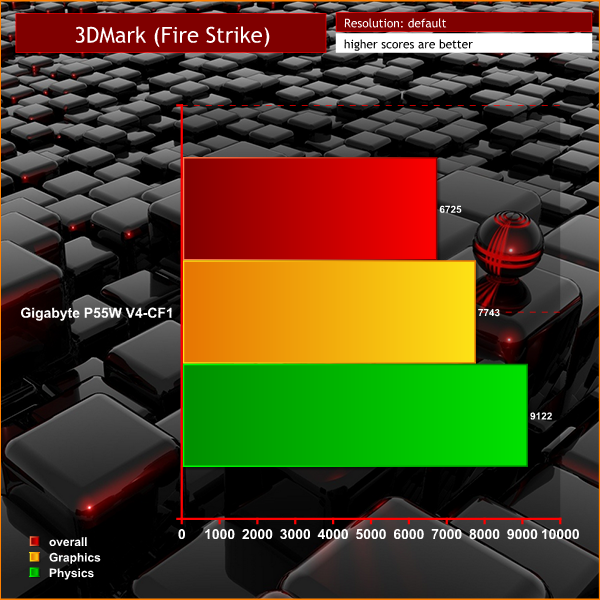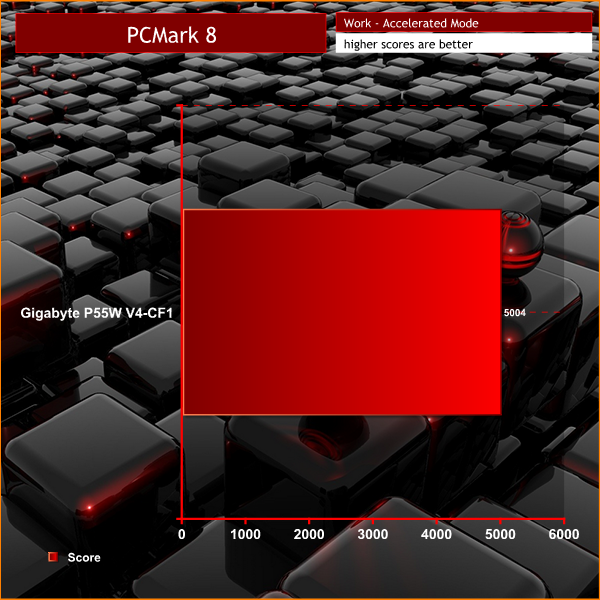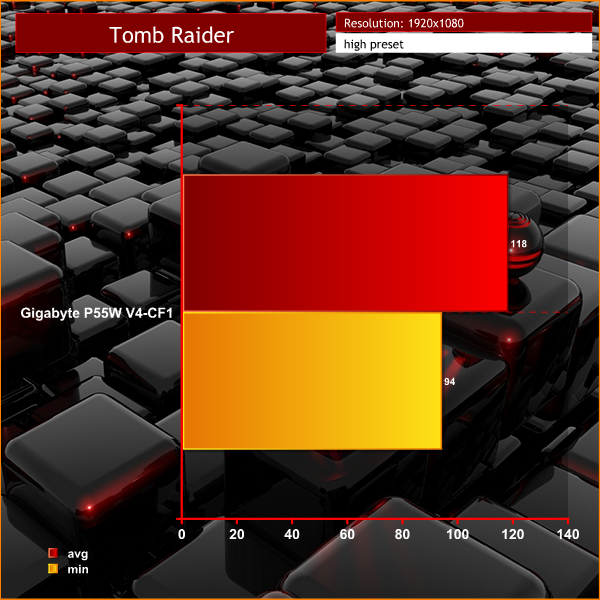 As you will see in the video, the hardware works well and the combination of GTX 970M and Broadwell CPU gives you enough grunt to play games at Full HD. The IPS screen is bright and sharp with good colours so games and videos also look good, as well as running at a decent frame rate.
Thermal Dynamics
The cooling system uses heat pipes to remove heat from both the CPU and GPU and then take it to the left side of the laptop where is is exhausted. The DVD drive occupies the right hand side, otherwise Gigabyte might have used a twin cooler approach. The result of using a single cooler on two pieces of performance silicon is that it can get a bit noisy, and it was also notable that the cooler would spin into life as soon as the laptop was placed under any sort of load.
Using the synthetic AIDA64 stress test showed that the CPU idled at 54 degrees and rose to 85 degrees under load. The underside of the chassis was 27 degrees near the exhaust vent when the laptop as idling and rose to 34 degrees under load. The rest of the laptop chassis was cool to the touch.
Acoustic Performance
You can clearly hear the cooler spinning up however it is not especially noisy in general use. When you're playing a game and the laptop is working under sustained load the smart move is to wear headphones.
Battery life
Battery life is good and delivered two hours 59 minutes of continuous PC Mark 8. Call it six hours in the real world, which is pretty acceptable without breaking any new records.
Closing Thoughts
Pretty much every aspect of the Gigabyte P55W v4 is a success, with the sole exception of the chassis which looks understated and feels a bit plasticky. It works perfectly well but doesn't inspire the sort of lust and avarice you might hope to feel when you spend £1,150.
One area that caused us to raise a quizzical eyebrow was the Wi-Fi as we pretty much assumed it would be 802.11ac, however it proved to be Intel 802.11n which is undeniably good, but honestly, how little extra would the faster ac cost?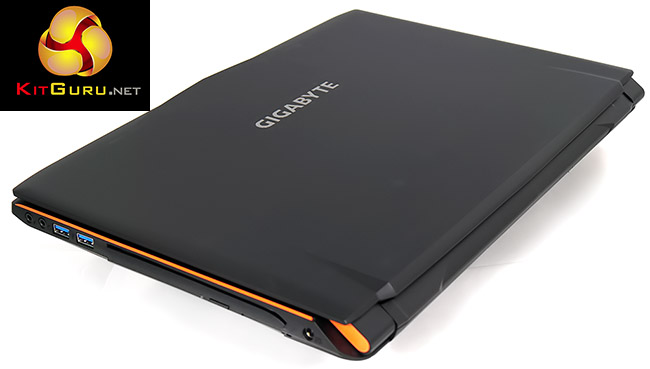 This is a good laptop with a solid list of features and some genuinely useful software however it feels to inspire any strong emotions in the potential buyer.



Buy from Overclockers UK for £1149.95 inc vat.
Discuss on our Facebook page, over HERE.
Pros:
Intel Core i7 and GTX 970M handle game play with aplomb.
The Full HD IPS screen looks good and is bright and sharp.
Four USB 3.0 ports arranged on both side of the chassis.
Decent battery life.
Gigabyte has included some useful software to manage the laptop.
They found room for a DVD writer.
Cons:
The single cooler has to work hard to control the CPU and GPU.
802.11n Wi-Fi rather than the faster 802.11ac.
The styling of the chassis is rather bland.
KitGuru says: A solid performer at a fair price that performs well and have a decent IPS Full HD screen.