Ubisoft is very busy at the moment. Not only does it have two Assassin's Creed titles landing this year and a new Far Cry and The Crew following shortly after, it's also set to  publish Toy Soldiers: War Chest, an RTS, tower defence, shooter title from Signal Studios, which you may know from its previous Toy Soldiers games.
The game is set to feature gameplay that will be familiar to anyone that's played previous entries in the franchise, with armies going head to head on a staged battlefield in a living room, with a mixture of ground troops, aircraft, vehicles and artillery emplacements, all controllable by each player. They can then switch from controlling the action from on high, to firing off shots themselves. You remember using the Dungeon Keeper possession spell right? That's basically what's happening here.
[yframe url='http://www.youtube.com/watch?v=5__3dsxAsPE']
The four armies available at launch (expect lots of DLC), include the Kaiser's German forces and the Star Power army featuring unicorns and pixies. The other two will be revealed closer to the launch date. However each one will be upgradeable and customisable over time, letting you tweak which units you'll bring to the field and what equipment they go into battle with.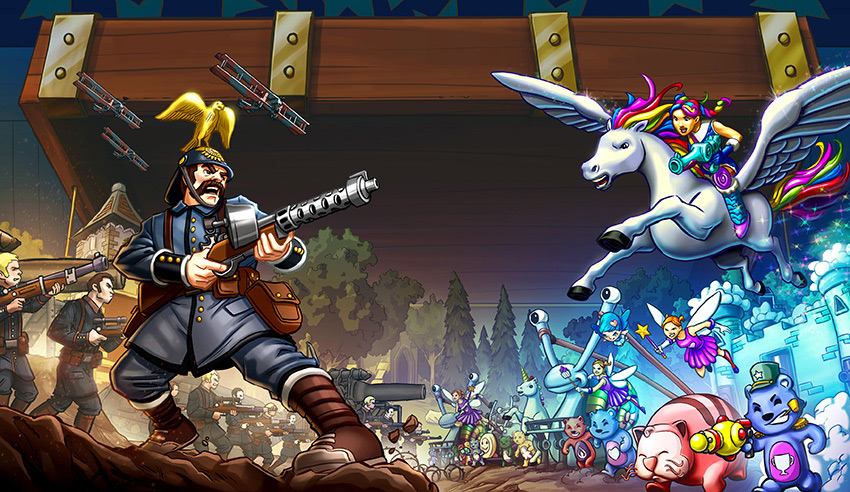 "Toy Soldiers has always been a top digital arcade title on XBLA and we are very proud to bring the new opus of this well-known franchise on next-gen. We strongly believe the universe of Toy Soldiers will offer a unique and intense gaming experience and we hope that fans will enjoy the deep game mechanics" said Thomas Painçon, EMEA Digital Publishing Director at Ubisoft.
Toy Soldiers: War Chest is coming to Xbox One, PS4 and PC in early 2015.
Discuss on our Facebook page, HERE.
KitGuru Says: I always thought that end scene from the movie Toys would make for an interesting game. It just seems a shame that it's limited here to a "real" battlefield, even if it is on a tabletop. It always seemed to me like it might be fun to fight over specific rooms in a house instead.