Undisputed UFC flyweight champion, Demetrious "Mighty Mouse" Johnson, has dominated his weight class for the past three years and hasn't lost since 2011, but fighting is a young man's game and at 29, he's thinking about the future. And that future might revolve around video-games, as Mighty Mouse has said he's considering becoming a game streamer full-time when his fighting career is over.
29 isn't old for a fighter of course, with many in the higher weight classes straying into their mid-late 30s and for some even early 40s before they hang up their gloves. That's less common in the lower weight classes though, and despite being a very dominant champion – the only Flyweight champion the UFC has ever had in-fact – it may be that Johnson would rather end his career on a high and go out when he's ready, rather than when someone else forces him to.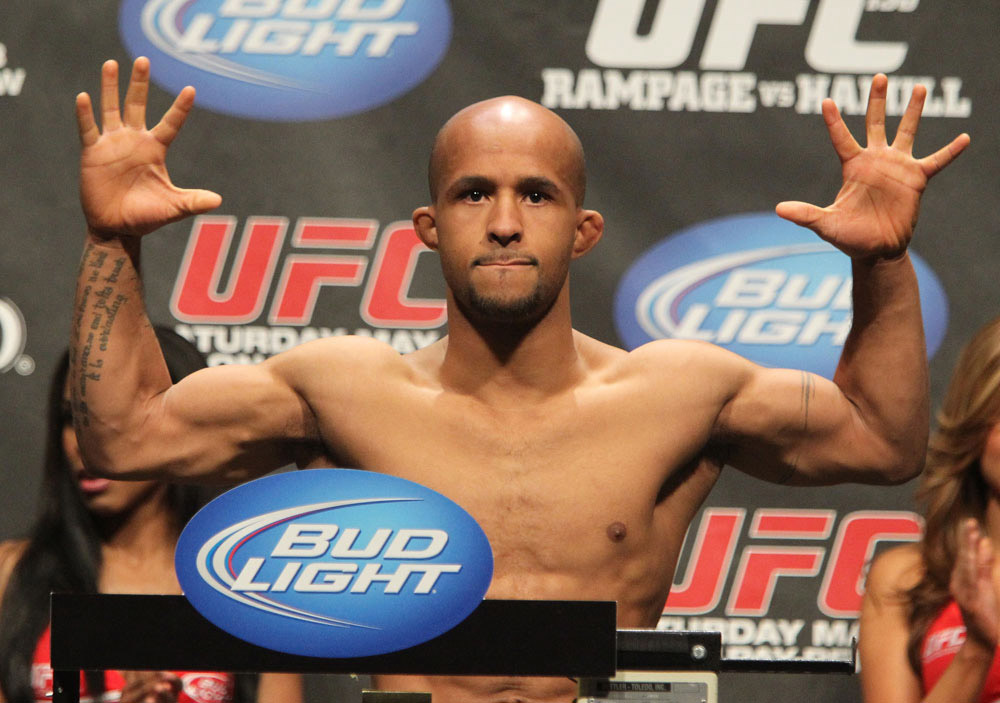 These hands are good for more than just wrecking faces. Source: UFC
He discussed his career as it is and streaming on a recent episode of the Three Amigos podcast, where he described how his wife suggested he try streaming for real now, while he's still fighting, to give him something to look forward to when he no longer competes. He's built up a good following as of late too, drawing some extra attention most recently when the U.S. anti doping agency showed up to blood test him mid-stream.
He also has a friendly rivalry with fellow fighter Quinton "Rampage" Jackson. The pair of them have semi-regular face-offs in Rainbox Six Siege, with their various teams combating one another in tense matchups.
""The last time a game got my heart rate up was playing Rainbow Six against Rampage. I was actually sweating. My wife was watching, asking why I was so tense. I was like, 'Because I'm playing against Rampage with Mighty Squad! Reputations are on the line, baby!'" Johnson said (via Bloody Elbow).
[yframe url='http://www.youtube.com/watch?v=rlYvUxVpiAI']
Johnson's plan for the future might seem a little strange to those unfamiliar with how big streaming has become, but it's an important move to consider when your fighting days are done. Making money when you're no longer a relevant fighter is very difficult. Running a gym is said to be a hard to profit from and the UFC itself only has so many jobs for commenting or analysis.
Going the entertainment route has worked for some though. Brock Lesnar returned to WWE, Brendan Shaub now has a popular podcast, so Mighty Mouse becoming a regular streamer doesn't seem that bizarre.
Discuss on our Facebook page, HERE.
KitGuru Says: Are you a fan of Mighty Mouse's streams? If so, what doe she do that separates him from the pack?