Considering how effective the Left 4 Dead formula was, it's surprising that more developers haven't taken that idea and applied it to other settings. That's what Fatshark did with Warhammer: End Times – Vermintide however and it works pretty well; if the recent beta was anything to go by. Hopefully a few of the bugs in that experience have now been ironed out though, as the game is set to launch tomorrow on various platforms.
While we wait the coming of the long-tailed tide, the launch trailer should whet our appetites for the battle to come.
[yframe url='http://www.youtube.com/watch?v=NbREAF-wmEg']
With its short section of frantic in-engine action, the above trailer does a pretty good job of representing what gameplay is like. It has slow, stealthier gameplay mixed up with frantic hack and slash action, as well as more raucous ranged combat. If players make too much noise, much like the aforementioned zombie slayer, it will draw the horde of rats down on them. The same can happen if players are doused in foetid chemicals by one of the special rat enemies that inhabit the city of Ubersreik.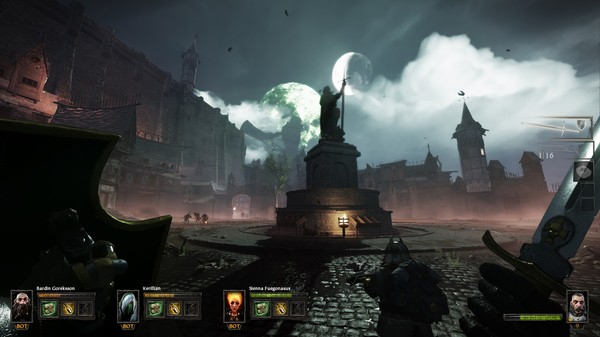 Some of the settings are impressively epic
There's also packmasters, that will grab a warrior and drag them away, assassins that will dodge bullets in their attempt to slip a warpstone blade between your ribs and minigun toting gattling rats which can cut through your team like butter if you allow it.
On top of the action, there's a whole loot mechanic with crafting and upgrades to be had, letting players customise their weapon and armour load outs to make their player character truly there own.
Vermintide launches on PC tomorrow and is available for pre-order now as a standard and collector's edition – currently at 10 per cent off. Console variants will be coming in the near future.
Discuss on our Facebook page, HERE.
KitGuru Says: I had a few games of this during the beta and though I'm not sure I'd want to play through the levels over and over like the difficulty and crafting systems hope you will, I can see myself battling through the campaign with a few friends.