It turns out that a fair few people are unhappy with the way Metro Redux has been priced over on the Steam forums. However, 4A Games has stepped in to address concerns and actually gave the best possible advice- vote with your wallet.
Metro Redux is a re-make primarily intended for the next gen consoles but there are still benefits to buying on the PC. 4A Games went ahead and listed a few, including an updated 4A Engine, which adds in "Global Illumination and terrain tessellation, as well numerous performance enhancements" in addition to a few other minor features.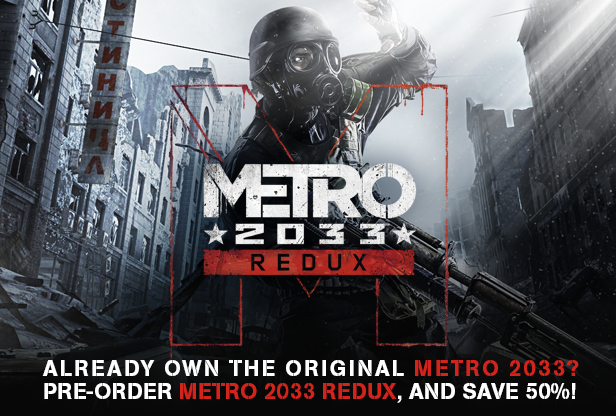 Metro Last Light has been upgraded to run in the updated 4A engine but the true star of the show is Metro 2033, which has been completely re-built. Cut scenes have been improved and levels have been seamlessly stitched together to remove loading screens.
"For sure, Metro 2033 Redux is a far more significant upgrade over the original than Metro: Last Light Redux (and we're not trying to pretend otherwise)."
Those who own Metro 2033 already can buy the Redux version at 50 per cent off. The same deal is present for those who own Metro Last Light although the offer isn't as compelling- especially if you already own the DLC for the game.
4A Games has said that it couldn't just upgrade the previous version of Metro Last Light to the Redux version through a patch due to technical limitations: "Because of the changes to the engine, which necessitated dropping 32-bit support; we literally could not 'patch' the game."
In the end, those who are unhappy with the pricing are free to vote with their wallets: "a flat 50% discount was judged to be the simplest, fairest solution. Ultimately, you are free to vote with your wallets."
You can read 4A Game's full statement, HERE.
Discuss on our Facebook page, HERE.
KitGuru Says: I skipped Metro 2033 and went straight into Last Light so I'm excited to go back and play the Redux version. Ultimately, I think the 50% discount on both games is fair. 4A Games even admits that if you already own Metro Last Light and the DLC, then the Redux version might not be worth buying. Are any of you guys planning to buy Metro Redux? Do you think the 50% flat rate discount is fair on those who bought the Last Light DLC?
Source: Steam Community