Artifact has been out for a few months now and despite Valve's reputation, the game has faltered. The $20 price tag and lack of progression system at launch caused a drop in player numbers fairly early on. Now, progression is in the game and earning card packs through regular play is possible. However, the number of players has continued to shrink.
Artifact is still a $20 game, which nets you access to the game, two pre-constructed decks, extra card packs and event tickets to take part in competitive modes. At launch, Artifact peaked at just over 60,000 players. Now in January, Artifact's active player numbers have shrunk to under 3000 players per 24 hours.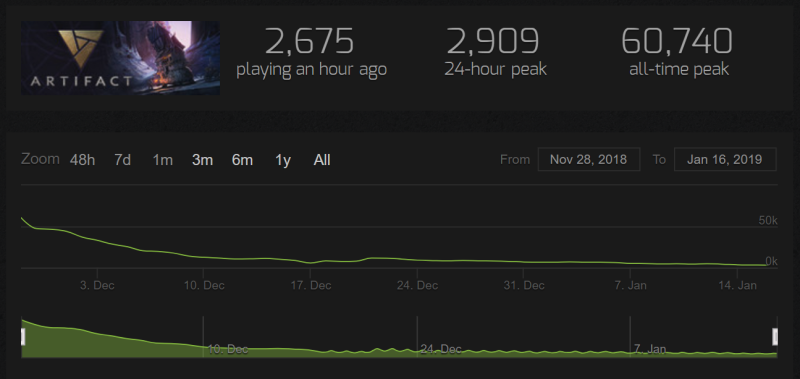 The main issue seems to be that Artifact isn't enticing new players and current players aren't being drawn back in on a regular basis. I still play Artifact regularly and find matches quickly, so while the player numbers don't look great, the game isn't 'dead'. Still, it is clear that Valve needs to take some steps to boost the player numbers.
Valve is continuing to patch Artifact, with two minor updates arriving this month. The game's first major tournament is also set to take place later this year. Perhaps iOS/Android versions of the game will reinvigorate interest, although if the $20 price tag sticks, that might continue to pose a challenge.
KitGuru Says: Artifact is without a doubt my favourite card game but it seems clear at this point that changes need to be made to increase appeal and get more new players involved. It will be interesting to see what Valve does in the coming months to get this game back on track.