Battleborn came out earlier this month and while its launch may have been overshadowed by the Overwatch open beta, this might not be a game you want to let fall by the wayside. Gearbox's 'hero shooter' is quite different from the likes of Overwatch and Team Fortress in a number of ways, with some unique game modes, vibrant characters and a campaign mode but how does it hold up on the PC specifically? Let's find out!
Click images to enlarge. 
Battleborn comes with your basic set of graphics options, with all of the appropriate resolution, window mode and V-sync options. In keeping with the Borderlands games, Gearbox has once again implemented PhysX with this title and the overall graphical style is similar. The only thing I did find a tad disappointing is the lack of anti-aliasing options, I would prefer to have MSAA over FXAA but on the plus side, FXAA doesn't hit performance as hard.
Battleborn isn't the most mind-blowing game graphically but it does have a rarely used, comic-bookish art-style similar to what you will find in the Borderlands series. Textures aren't perfect but I noticed very little aliasing despite being limited to just FXAA and everything is bright and colourful, which is a nice change of pace from the usual grim scenery we see in games.
For our testing today, we will be running Battleborn on a system using an Intel Core i7 6700K, 16GB of RAM, an Asus Maximus VII Hero motherboard and a 1TB Samsung Evo SSD. For graphics cards, we will be benching a reference GTX 980Ti, a GTX 970, an R9 Fury X, an R9 390x and a R9 290.
For Nvidia, we are using driver version 365.19, which is the latest Game Ready driver release at the time of writing. For AMD we are using driver version 16.5.2, which was released with optimizations for Battleborn and Doom. None of our cards are overclocked for this test.
Since Battleborn doesn't have its own in-built performance testing tool, I chose to benchmark an early section from the mission titled 'The Algorithm' as it is an early mission and easy to repeat to ensure a fair test across cards. In my run, I set off plenty of explosions and tried to get as many enemies on the screen as possible to create a demanding scenario.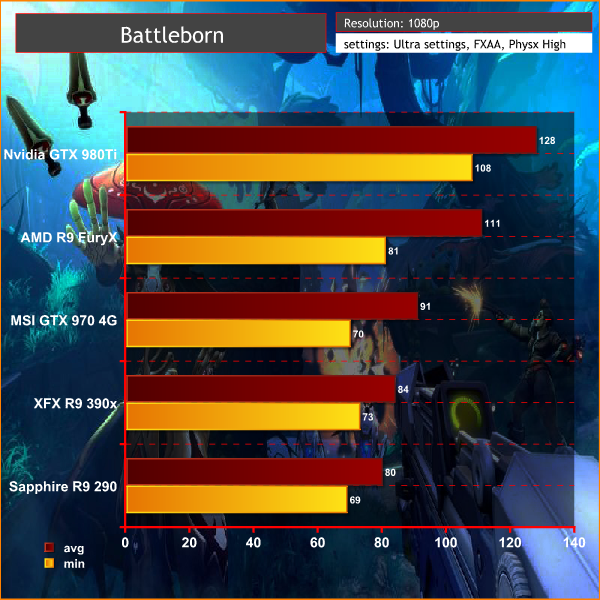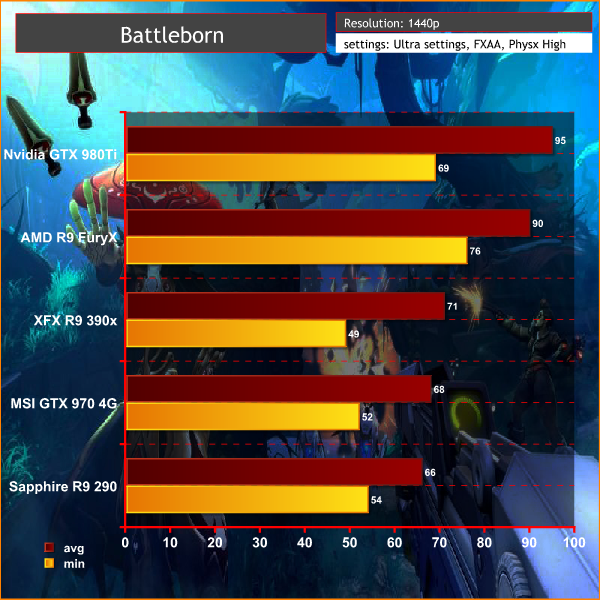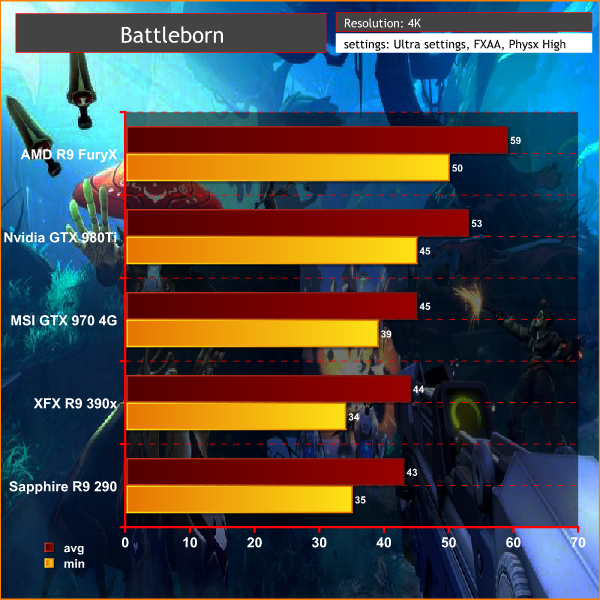 Battleborn is designed to be an accessible game that can run well on a wide-range of hardware and as you can see from our results, Gearbox has definitely achieved that. Every card on the list is able to hold its own, even at 1440p and 4K, which is always great to see but not too surprising given that we are dealing with the aged Unreal 3 Engine.
This game does make use of PhysX, which can't be turned off in the graphics options menu. However, I did go back and re-test the AMD GPUs to check if having PhysX set to low would make any difference- long story short, it didn't. So feel free to whack all of the options as high as they will go.
Battleborn runs great but its missions do get slightly repetitive. A lot of the campaign boils down to shooting hordes of enemies and taking down a huge bullet-spongy boss every so often. However, the huge range of 25 hero characters to choose from helps keep things fun and changes up the gameplay a bit.
The multiplayer is where this game really sets itself apart with its own unique game modes. There are three modes available at launch, the first of which is 'Point Capture', where you capture enemy points on the map while protecting your own from invasion.
The second is mode is called 'Incursion', which plays out similarly to a tower-defence game, as you try to stop constantly spawning enemy sentries and minions from pushing through and taking over your base. You can build turrets and shield generators to slow them down but you also need to help your own sentries break into the enemy team base.
The third mode is called 'Meltdown', which is a race against time as two teams compete to sacrifice the most minions to 'Magnus' a god in the Battleborn world that wants to destroy whoever loses. This mode also has points where you can build turrets and shield generators to give your team a boost and bolster defences.
Similarly to games like Dota 2, you start each multiplayer match with your hero at level 1, you then need to kill minions and other players (depending on the game mode) to rank up and select new skills.
The game itself is fun if you still enjoy the Borderlands humour and art-style. The campaign missions are entertaining but multiplayer matches can take a while to find/join and it does feel like the type of game that would be better played with a friend or two, rather than solo. One final thing that may concern people is that even in private solo missions, you do need to be connected to the internet as the saves are all kept server-side.
KitGuru Says: Battleborn has been overshadowed a bit by Overwatch this month despite the fact that the two games are so very different. Gearbox's first-person shooter has some unique elements to it and it should run perfectly fine on most systems, if you are in need of a new game to play with friends, then this is worth giving a shot.