Bethesda's E3 conference took place last night, bringing us news on Dishonoured 2, Prey and Quake Champions but despite rumours building up to the event, there was no Wolfenstein- at first glance that is. Closer inspection of the Bethesda E3 stream revealed a sneakily placed Wolfenstein teaser.
During Bethesda's E3 conference, a DOS screen was shown and as you can see in the screenshot below, there is a game titled 'New Colossus' listed amongst other Wolfenstein games and curiously, the release date was blanked out.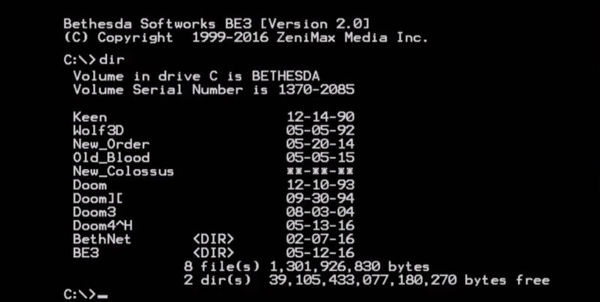 So from the sounds of it, Machine Games is probably working on a follow up to Wolfenstein: The New Order. That said, we don't know if this will be another standalone expansion like 2015's Old Blood or if it will be a full release.
Discuss on our Facebook page, HERE.
KitGuru Says: Bethesda obviously didn't want to give too much away but perhaps we will hear some more about New Colossus at Quakecon later this year. Have you guys been following the E3 press conferences so far? What did you think of Bethesda's announcements?