Last year, Bethesda held its first ever E3 conference and it brought some huge announcements along with it, including the reveals of Fallout 4 and Dishonoured 2 as well as a release date for DOOM. Thanks to the success of last year's keynote, it looks like the studio is set to return to E3 once again this year with another conference.
Bethesda's E3 conference will take place on the 12th of June at 7 PM Pacific time, and the promotional invite shows off little drawings of different Bethesda characters from a range of games. This was all confirmed via the company's Twitter account.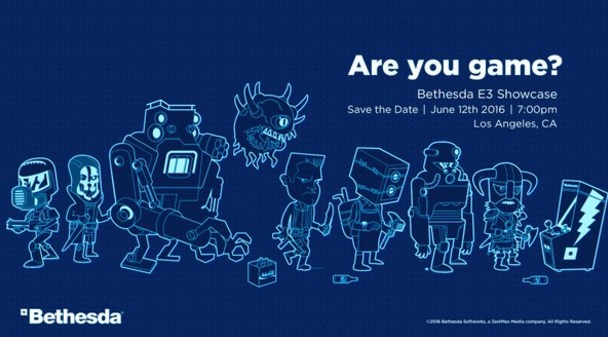 While Fallout 4 had been rumoured for years, we don't really know what Bethesda could have lined up for the 2016 conference. DOOM will already be out though Dishonoured 2 could make an appearance if it hasn't already released, along with some Fallout 4 DLC potentially. Maybe Bethesda will be publishing a new IP from a third-party studio, or maybe work on the next Elder Scrolls has already started, either way, we will learn more in June.
KitGuru Says: Bethesda is holding another E3 conference this year which means it probably has some big announcements lined up. It will be interesting to see what Bethesda announces this year and if it can top Fallout 4.