Call of Duty has a history of including out of the box items in its collectors editions. In the past we have seen Modern Warfare 2 launch with night vision goggles, Call of Duty: Ghosts launch with a 1080p 'tactical camera' and Black Ops 2's collector's edition included a flyable drone.
Now Activision has revealed what it set to be included in the Black Ops 3 collector's edition. This time around, those looking to spend big on Call of Duty can grab the 'Juggernog Edition' which comes with a Juggernog themed mini-fridge.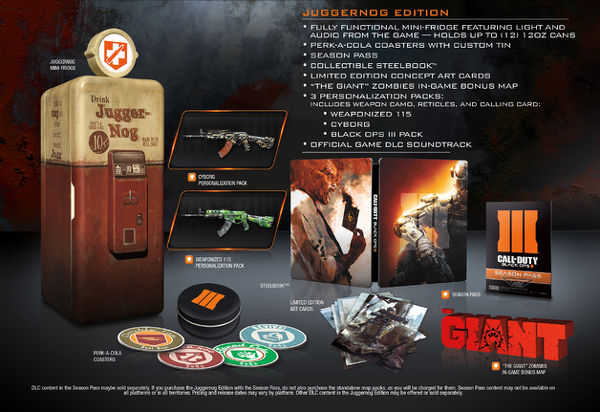 Judging from the image, it is hard to tell exactly how much you would be able to fit in to the mini-fridge but it does appear to be rated for "up to twelve 12 ounce cans". You will also get a bunch of coasters themed after each perk drink found in the Black Ops zombies mode, including Juggernog, Speed Cola and quick revive soda.
The rest of the package is fairly standard, with concept art thrown in alongside a bonus multiplayer map, steelbook case, soundtrack and some extra in-game items.
Call of Duty Black Ops 3 launches in November, though there will be a multiplayer beta next month. It is hitting the PS4 first on the 19th and will later end up on the other platforms. This game will also be launching for the last generation systems from Sony and Microsoft, alongside the Xbox One, PC and PS4.
Discuss on our Facebook page, HERE.
KitGuru Says: I do wonder how many people buy collector's editions of games. I must admit I let the hype consume me once and I grabbed the collector's edition of The Witcher 3 but aside from that, I've never really had the urge. Have any of you ever bought a collector's edition?