Yesterday a Steam Early Access title had to be booted off of steam, which raised some valid worries about how Greenlight and Early Access are run. Today we have more cause to not trust the Greenlight or Early Access programmes as the developers behind Towns have abandoned the project completely.
Towns was Greenlit on Steam over a year ago but trouble started brewing this year when the main developer left in February claiming that he was "burned out", after that, Florian Frankenberger took over the project but it seems that the game isn't selling well enough to justify the amount of work he is putting in to it.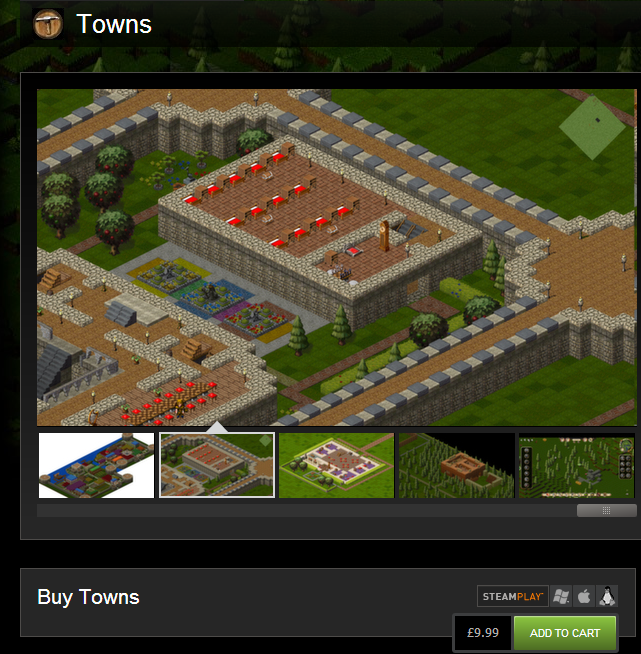 It's not entirely Frankenberger's fault, he was told that the game would sell a certain amount of copies per month, which would keep him going but it seems the actual sales figures amounted to a lot less:
"When I signed up for working on Towns I was told that we sell a minimum of about x copies/month of the game. I agreed to work on Towns for 15 per cent of what would remain after removing all the taxes and the Steam fee. Sales are going down rapidly. So we are now selling less than a third of the x copies a month, losing about 33 per cent of sales per month. I can't work for that little amount. I have to pay for the rent and food and this doesn't really suffice  for any of it."
"I hope you are not too disappointed. And if you are: I'm really sorry. I'm quite new to indie game dev and I couldn't really see that the game sales were declining that rapidly. I guess if I had more experience I would have seen it coming …"
The game is no longer in Early Access but the unfinished game will continue to be sold on the Steam store for £9.99. Although, I don't see why someone would want to buy a game that both of its developers abandoned.
Discuss on our Facebook page, HERE.
KitGuru Says: Early Access isn't a good programme, it's far too easy for developers to release sub-par games only to get lazy or stop working on them shortly after. Lets open this up for discussion again, what do you guys think of the Early Access programme? Do you think Steam should continue to become an open store where anyone can publish or should Valve be implementing some quality control?
Source: MCV