When Dungeon Keeper arrived on mobile devices, many fans of the original games branded it as a micro-transaction greed fest, not many people like the game at all. So you might be wondering, if so many people hate the game, why does it have such a high rating on the Google Play store? Well that would be because EA doesn't actually give you the option to rate the game at less than 5 stars in the app.
Once you're in the game, it will give you two rating options: 1-4 stars and 5 stars. Choosing the 5 star option will take you right to the Google Play store, where you can praise EA's latest micro-transaction heavy cash grab but choosing the 1-4 stars option forces you in to writing a private email in which you're supposed to explain what it would take to make the game more deserving of a high rating.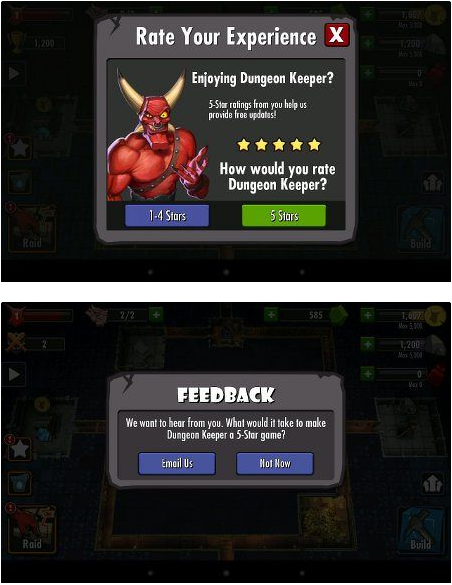 It's not all so bad, you can still edit the star rating once you are on the Play Store page but a lot of people probably won't realise that since the game filters out the negative reviews. Obviously, EA denies that it was in the wrong here and explained that the rating filter was designed so that it could receive constructive feedback on the state of the game:
"We're always looking at new ways to gather player feedback so that we can continue to improve our games." An EA spokesperson said, "The 'rate this app' feature in the Google Play version of Dungeon Keeper was designed to help us collect valuable feedback from players who don't feel the game is worth a top rating. We wanted to make it easier for more players to send us feedback directly from the game if they weren't having the best experience. Players can always continue to leave any rating they want on the Google Play Store."
KitGuru Says: Filtering the reviews was certainly a sneaky move, Dungeon Keeper has some passionate fans and I'm sure a few of them would have been willing to give constructive feedback if it was an option alongside the usual Google Play rating system. That said, the problems with the game are pretty obvious, it's constantly trying to sell you something and that in itself sucks all the fun out of it. What do you guys make of this? What will it take for EA to finally learn its lesson?
Sources: Pocket Gamer, Eurogamer