In light of Microsoft's recent secretive campaign to get content creators on YouTube to speak positively about the Xbox One, it has been revealed that EA has also done the same to promote its own next gen games. Right now the promotion is aimed at getting producers to be positive about two games in particular: Battlefield 4 and Need for Speed Rivals but past games have included Plants VS Zombies 2, Fifa 14 and Madden NFL 25.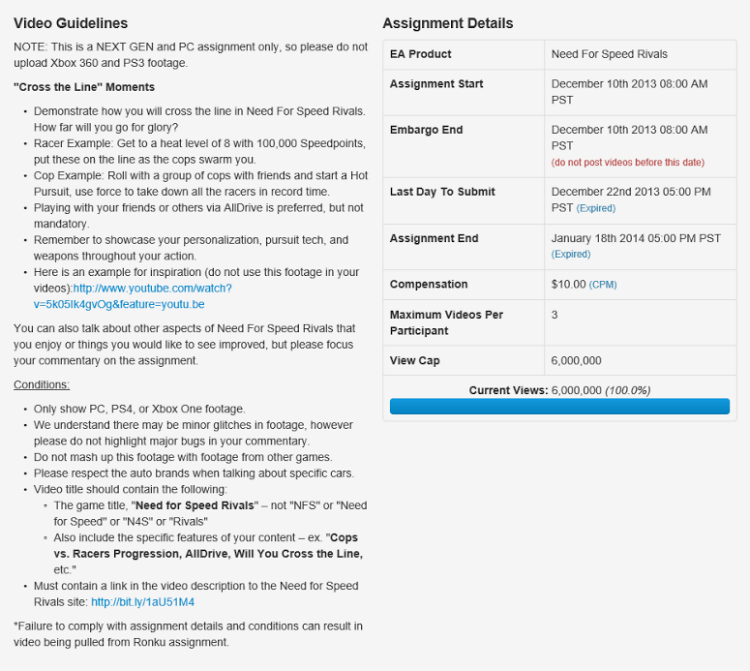 The promotional program is called Ronku and it has some pretty specific guidelines that you must follow when creating a qualifying video. Most of them are what you would expect such as talk about the game and show off some in-game features such as levolution from Battlefield 4. That part of the contract doesn't sound particularly incriminating but when EA forces you in to secrecy, the deal starts to look a bit dodgy:
"You agree to keep confidential at all times all matters relating to this Agreement and any Assignment including, without limitation, the Details and Compensation listed above."
The reason this is wrong? Well FTC guidelines require all endorsers to tell their audience that they are being paid. A spokesperson for EA gave a comment to The Verge:
"Through EA's Ronku program, some fans are compensated for the YouTube videos they create and share about our games," the spokesperson said. "The program requires that participants comply with FTC guidelines and identify when content is sponsored. User-generated videos are a valuable and unique aspect of how gamers share their experiences playing the games they love, and one that EA supports. We explicitly state in the Terms & Conditions of the program that each video must comply with the FTC's Guidelines concerning Use of Testimonials and Endorsements in Advertising."
EA hasn't commented on wether or not Ronku participants would have still got paid if they had disclosed the information to their audience and perhaps we won't know but this level of secrecy certainly hurts the integrity of several influencing content creators on YouTube.
KitGuru Says: Paying for promotion is fine, there's nothing wrong with that and it happens in all forms of business. However, accepting money for an opinion is wrong and companies getting participants to stay silent on the promotion is illegal. 
Sources: The Verge, NeoGAF, Ronku