Turtle Rock will be hosting a "Big Alpha" for its upcoming 4V1 shooter, Evolve, at the end of this month. Starting from today, users can sign up for the second alpha test, which will also be coming to the Xbox One and PS4 this time around, rather than just the PC.
Since Microsoft has an exclusivity deal worked out for Evolve, Xbox One owners will get in to the alpha a day early on the 30th of October and will be able to play until the 2nd of November. PC and PS4 owners will be able to play from the 31st of October, those who pre-ordered the game already are guaranteed a spot on the big alpha, everyone else will have to sign up and hope for the best.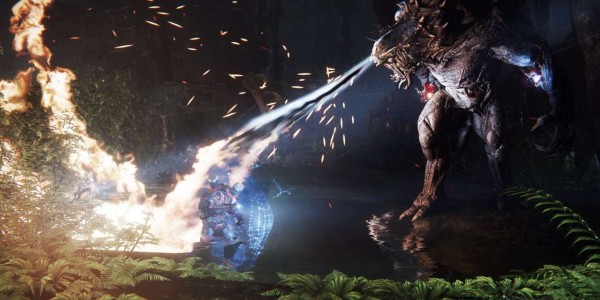 Since Evolve is a multiplayer game, console owners will need a PS+ or Xbox Live Gold subscription in order to play. Aside from that, Turtle Rock's big alpha announcement also revealed that those who do pre-order will receive a fourth monster to play as for free once the game has launched, the downside to that is those who prefer to wait for reviews will have to pay out.
To sign up for the Evolve "Big Alpha", you have to go to THIS SITE. Then, you enter this code: 11197-10708-89072. You'll then have to enter your name, email and platform of choice. It seems to be operating on a 'first come, first serve' basis so act fast.
Discuss on our Facebook page, HERE.
KitGuru Says: This will probably be Evolve's last alpha test before the developers start tying up loose ends ahead of the game's impending release in January. Have any of you guys had a chance to play Evolve yet? What do you think of it so far?