Ubisoft has been attempting to boost its efforts on the PC over the last year or so, even going as far as to push PC versions of certain titles back to give developers extra time to ensure it is up to standard. This was the case with Far Cry: Primal, which launched on the PC this week. But how does the game run? Has Ubisoft managed to turn things around? 
As always, our first point of call is the options menu to see exactly what we get to play around with visually and check for any major omissions.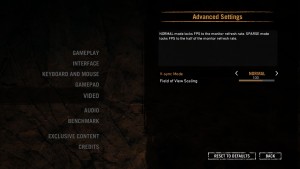 Click images to enlarge.
In the video settings menu you get most of the options you would expect. Here you can change your resolution, adjust colour settings, pick a graphics preset and launch the in-game benchmarking tool. There is an advanced settings menu that lets you adjust VSync but more importantly, this is where you go to set your field of view. The default is 65 but most PC gamers will feel more comfortable with 90-100.
In the quality settings menu you can adjust everything you would expect though the anti-aliasing options are a bit simplistic. You only get FXAA or SMAA and while both of these options work well, it would be nice to be able to make finer adjustments such as 2x AA or 4x AA.
Another big change worth mentioning is that Far Cry: Primal is not a Nvidia GameWorks title, so theoretically both Nvidia and AMD GPUs should be on equal footing. This does mean we lose some of the Nvidia effects though, such as PCSS shadows, HBAO+ ambient occlusion and Nvidia's fur textures.
The world itself is gorgeous. While Primal may not be a huge leap over Far Cry 4 in terms of graphics, the sheer amount of detail found in the environments and textures is nothing short of impressive.
Today, I will be running Far Cry: Primal on a system using an Intel Core i7 6700K, 16GB of G.Skill DDR4 RAM, a 1TB Samsung 850 Pro SSD and an Asus Maximus VIII Hero motherboard. For graphics cards, I will be benchmarking a reference GTX 980Ti, an MSI GTX 970 4G, a Sapphire Vapor-X R9 290 and an XFX R9 390x Ghost Edition. None of the cards were overclocked for this test and we used the latest drivers from both AMD and Nvidia.
We used the in-game benchmarking tool to collect these results. Having played around five hours of the game myself beforehand, I found the tool to deliver accurate results. The benchmark was run using the Ultra graphics preset with motion blur switched off.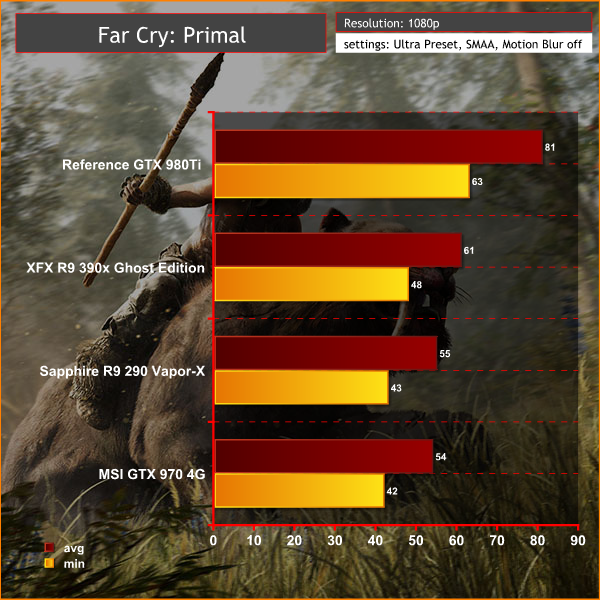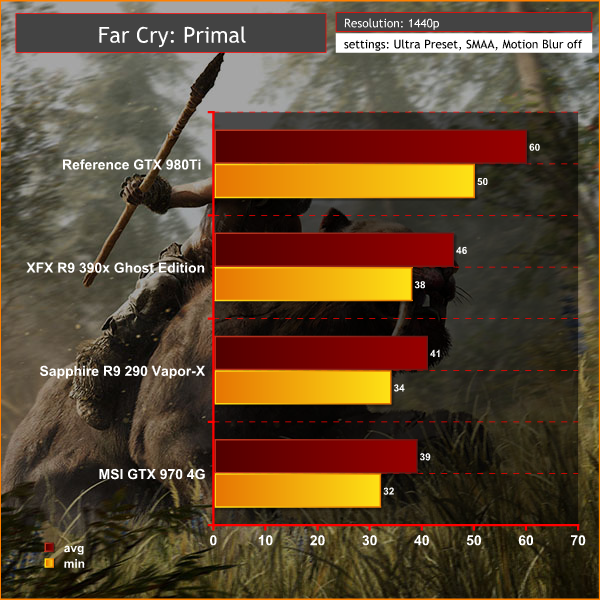 As you can see, Far Cry Primal is a very demanding game at its highest settings. The GTX 980Ti only just manages to average 60 frames per second at 2560×1440 and even at 1080p, the results are slightly lower than what you might expect from a £550 graphics card. While the R9 390x was able to average 60 frames per second at 1080p, the GTX 970 and R9 290 fell just short.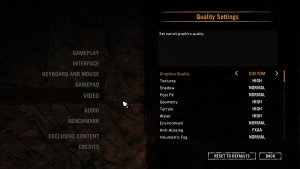 I went ahead and did some further tinkering with graphics options to see if I could manage a 60 frames per second minimum at 1080p on the R9 390x, R9 290 and GTX 970 while still maintaining high image details. Using the settings you see above, you can see that lowering a couple of settings like Shadows and Post Processing effects can deliver significant gains in frame rate: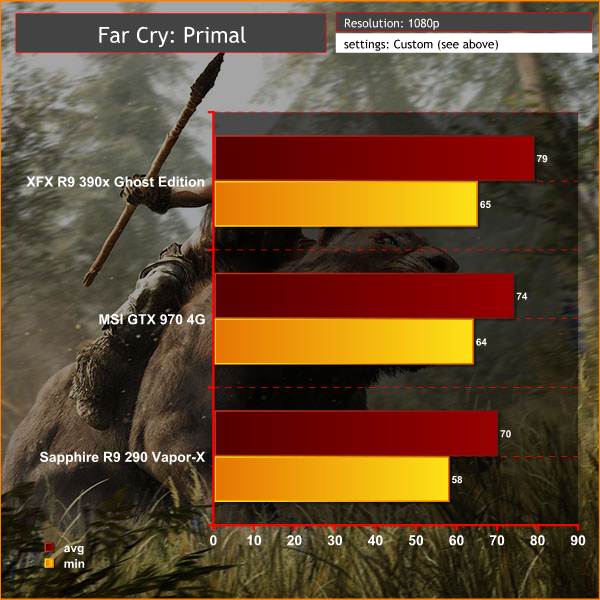 I did also try to achieve 60 frames per second at 1440p on these cards with a mix of high and medium settings but that just wasn't possible. Those looking to play at high details at high resolutions will need a beefier graphics card.
Some reports out there are saying that Far Cry: Primal runs worse than Far Cry 4 despite it using the same engine. While that may be true, I must admit that Primal offers a much smoother 'day one' experience for single GPU users. Back when Far Cry 4 came out the game had frame rate hitching and stuttering issues that are not present here in Primal. I have also yet to encounter any major bugs out in the open-world.
That said, those of you with an SLI or CrossFire setup may want to steer clear for the time being as Primal's dual-GPU performance is broken according to many people. This also rules out the possibility of smooth frame rates at 4K for the time being.
We had the chance to test SLI on a system using an Intel Core i7 5960x, 32GB of RAM and three Titan X graphics cards in SLI. While we found two-way SLI performance to work well at 4K, adding the third GPU caused frame rates to cut in half. Right now, the quick workaround for this on three-way SLI systems is to just dedicate the third GPU to PhysX duties in the Nvidia control panel and stick with two-way SLI.
Now let's talk a little bit about gameplay. There has been this perception that Far Cry: Primal is just a reskinned Far Cry 4 and while that may seem true if you look at the map layout comparison, I can honestly say that the 10,000 BC setting and new beast master mechanics really help to freshen up the series. It doesn't quite feel brand new but it is enough to not feel like a total rehash.
The core gameplay is relatively similar to other Ubisoft titles, with tons of side quests and secondary content on offer. However, there has been a tighter focus on story this time around and I actually found it to be quite engaging. If you have 20 hours or so to kill, then this game can deliver that and then some.
KitGuru Says: Far Cry: Primal has succeeded in freshening up the series a bit with its new setting and Beast Master mechanics. However, it is also a very demanding game that requires a fair bit of tinkering to keep above 60 frames per second, even on powerful GPUs like the GTX 980Ti. Ubisoft are improving on their PC efforts but it is clear that some extra work could be done to optimize the Dunia engine a bit better.