Back at E3, Microsoft announced that it would be bringing Gears of War back to the PC with Gears of War: Ultimate Edition. Since then, not much else has been said about it, though the studio behind it says they are still working on it and getting it running with DirectX 12. However, it looks like we will be getting another entry to the Gears series at some point as well on the PC.
Gears of War 4 is currently scheduled for 2016, as long as it doesn't get hit with any delays. We already saw a trailer for the game this year and it is currently only announced for Xbox One, but according to a GAME listing, the title will also land on PC.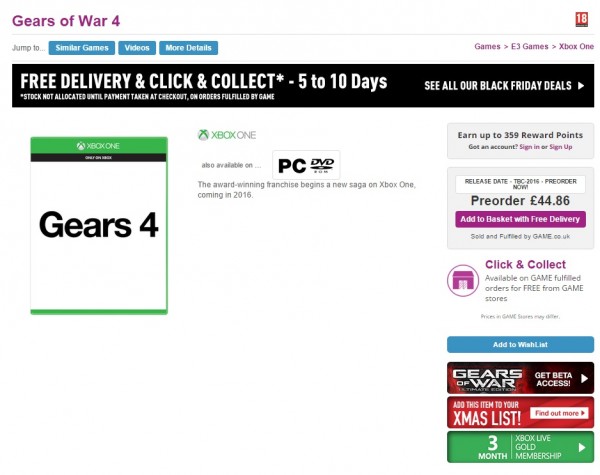 [yframe url='http://www.youtube.com/watch?v=y7kJkNp6B8w']
It isn't uncommon for retailers to have early access to information surrounding upcoming releases, though these retail leaks aren't always accurate. After all, Microsoft itself listed Sunset Overdrive as coming to the PC at one point and yet, a PC version is nowhere to be found.
That said, Microsoft does appear to be making more of an effort on the PC. We still don't have the main Halo games, but bringing Gears of War back to the PC is a pretty good start.
KitGuru Says: I recently played through Gears of War Ultimate Edition on the Xbox One, which reminded me just how much I enjoy that series. Given that, I'd be happy to see the series return to the PC platform, though nothing official has been announced just yet. Which Xbox exclusives would you guys like to see land on PC? Halo is the obvious choice but the console does have quite a few games up its sleeve.