Over the last couple of years, Humble's monthly bundle subscription has been a great way for PC gamers to build up their libraries at a low cost. This year though, the subscription will be changing, with new subscription tiers and price hikes, although you also get the benefit of choosing which games you want each month.
In its current form, the Humble Monthly Bundle costs $12 USD per month and gives redeemable keys for anywhere from 6 to 10 games per month. Most of the list is usually filled by indie games but big publishers get involved quite regularly too. Moving forward, the Humble Monthly Bundle will be known as 'Humble Choice' and subscribers will be able to pick up to ten games to redeem each month depending on their tier.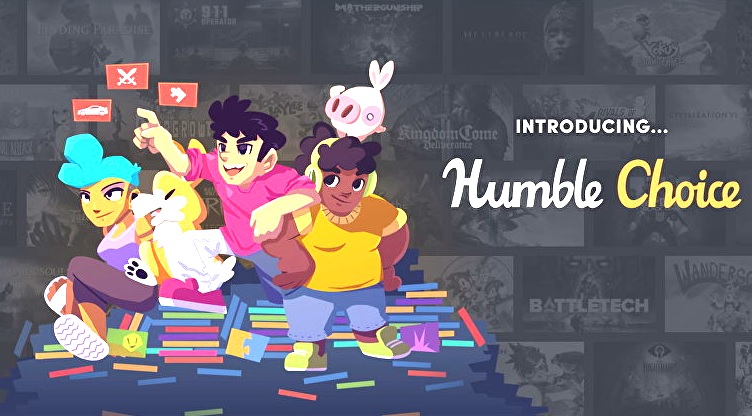 Humble Choice Lite is the basic subscription, coming in at $4.99 per month. This tier doesn't include the usual Humble Monthly games, but it does get you access to the Humble Trove library, which includes DRM-free indie games with new titles added each month. If you want to keep getting redeemable Steam keys, then you will need to jump up to the Humble Choice Basic tier, which is $14.99 per month and gives you the ability to choose three games each month from a curated list, in addition to getting access to the Humble Trove library. Both the Lite and Basic tiers also have a 10% discount for games on the Humble Store.
Humble Choice Premium is the most expensive and is essentially the new version of the Humble Monthly Bundle we've gotten used to over the years. This tier costs $19.99 per month and comes with a choice of 9 games per month, access to the Humble Trove and a standard 20% discount across all games on the Humble Store.
This is a fairly big change and does unfortunately make the service more expensive. However, current Humble Monthly subscribers will be converted to an exclusive Humble Choice Classic plan at launch, which will keep the monthly cost at $12 per month and grants access to ten redeemable games per month, in addition to the 20% Humble Store discount and access to Humble Trove. The problem is, if you cancel your current Humble Monthly subscription, you won't be converted and if you cancel after Humble Choice launches, you won't be able to re-subscribe to the classic tier.
Currently, the plan is to launch Humble Choice at some point in 2019 but there is no specific date yet. You can subscribe to Humble Monthly now and be converted to Humble Choice Classic when it launches as long as you don't cancel beforehand.
KitGuru Says: Humble Choice could be a good idea, but the reception to the new pricing tiers will largely depend on what games are included each month given that it is more expensive across the board. There is no launch date yet but hopefully more details will come through soon. Are any of you currently subscribed to Humble Monthly? What do you think of the new changes?