Aside from No Man's Sky joining Xbox Game Pass this week, there are some other big additions coming to the library this month. Last year, Microsoft announced a partnership with Square Enix to bring some of its biggest JRPGs to Game Pass and we are continuing to see that partnership make progress this month. 
Aside from Final Fantasy titles, Square Enix is also bringing the Kingdom Hearts games to Game Pass on console. Kingdom Hearts 3 arrived back in February but for those who want to start back at the beginning of the series, you'll be able to get Kingdom Hearts HD 1.5 & 2.5 ReMix and Kingdom Hearts HD 2.8 Final Chapter Prologue starting tomorrow.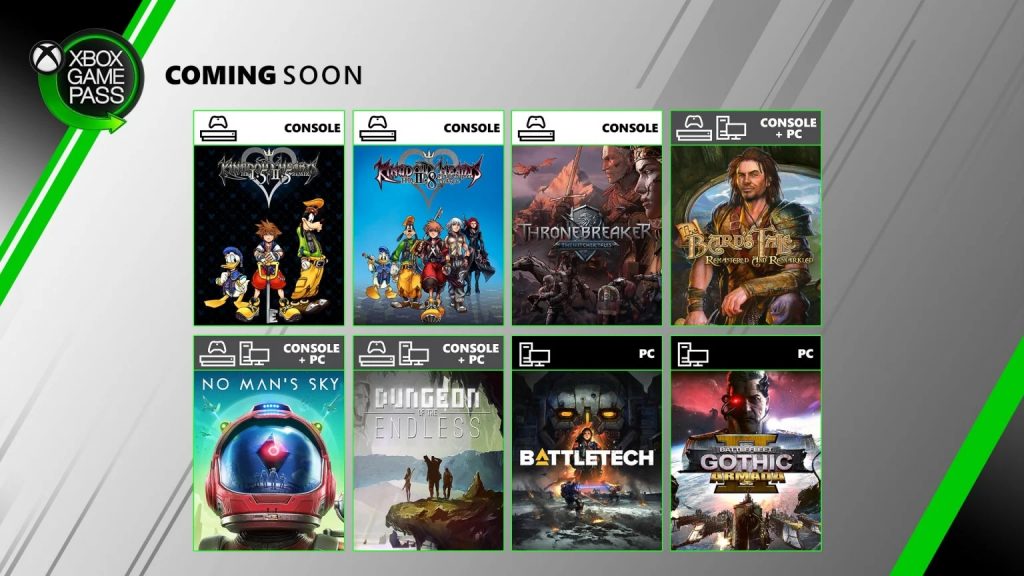 Unfortunately, the Kingdom Hearts games are only available for Game Pass on console. Square Enix has not announced any plans to bring the series to PC but perhaps that will change some day.
Here is the full list of games coming to Game Pass this month for console and PC:
Bard's Tale Remastered (Console & PC).
Battlefleet Gothic Amarda 2 (PC).
Battletech (PC).
Dungeons of the Endless (Console & PC).
Kingdom Hearts HD 1.5, 2.5 & 2.8 (Console).
No Man's Sky (Console & PC).
Thronebreaker (Console).
With the Xbox Series X coming out this year, one of Microsoft's main goals is to increase the value of Game Pass and continue growing the service. With that in mind, expect some other exciting games to join in the months to come, ending with Halo: Infinite later this year.
Discuss on our Facebook page, HERE.
KitGuru Says: Finally getting the full Kingdom Hearts saga available on Xbox is a pretty big deal, particularly after the years of Sony exclusivity. No Man's Sky is going to be another huge, noteworthy addition for this month too.