Valve has been giving modders the tools to make some money off of their hard work for a while now. Selling mods started with skins in Dota 2 and Counter-Strike: Global Offensive but now it is branching out further, starting off with Skyrim.
Now we already know that modding a game can present some issues. Not all mods are compatible with each other and sometimes they just don't work as well as promised. To combat this, Valve does have a refund policy in place for premium mods, which is a first for the company and probably something it should have implemented with Early Access. If you install a broken mod, you have 24 hours after purchase to get a refund.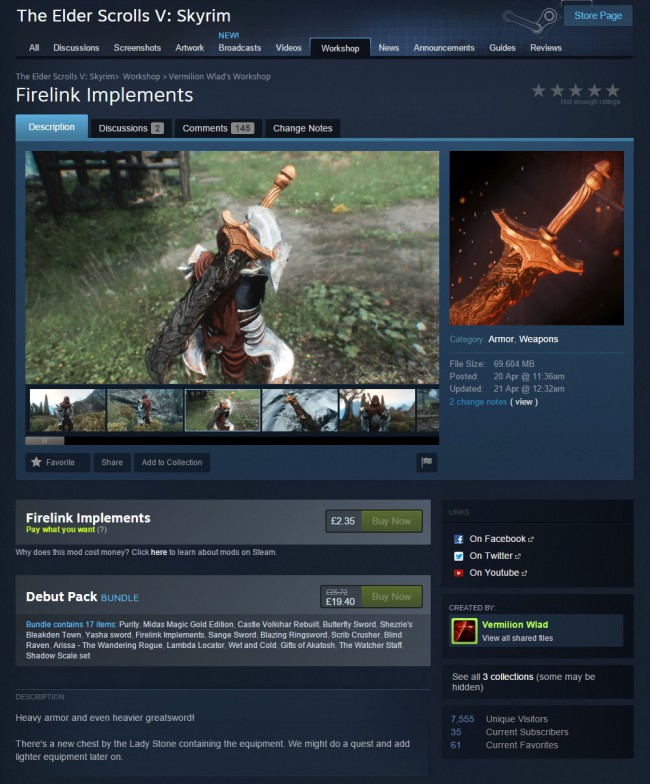 Right now, Skyrim has over 24,000 mods available and for the last few years, they have all been free. This premium mod option will allow users to support the modders they like. Creators can choose to enable a pay what you want option as well, which would make buying a mod optional, depending on whether or not you wanted to support future projects or not.
Modders who work as a team can easily group together and split earnings via the Steam Workshop as well. You can check out the first batch of premium Skyrim mods, HERE. You can read the full FAQ about these changes from Valve, HERE.
Discuss on our Facebook page, HERE.
KitGuru Says: Mods have traditionally been a free for PC gamers but it looks like Valve might be changing that. While I have no problem with the idea of supporting hard working creators, I'm not sure people are going to want to buy sword skins for Skyrim. What do you guys think about this?