With E3 coming up, it is time for Microsoft to start ramping up the marketing machine for Halo 5: Guardians, which is due out this October. We will undoubtedly be seeing more of the game next week, although Game Informer has been given the go-ahead to publish a trove of new details this week.
There are some good points and some bad points. Unfortunately, Halo 5 won't be featuring split screen co-op, which is a huge shame as it was one of the few triple A series left that supported it. That doesn't mean no co-op though, there will be up to four player online co-op for the story mode and the best part is that it won't require an Xbox Live Gold subscription, although the traditional multiplayer mode will.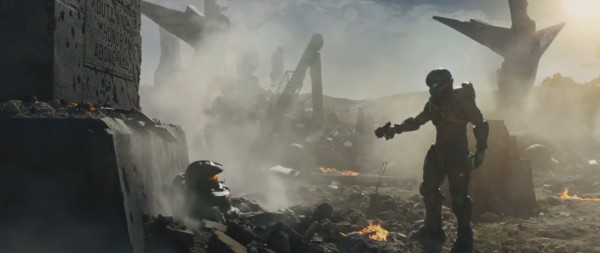 Moving on to more details about the story, which will feature Master Chief accompanied by the Blue Team. While Master Chief is set to be on the run in this game, it seems that he isn't out there on his own as he will be commanding the Blue Team throughout the story.
343 Industries has big plans for competitive multiplayer as well, with more than twenty maps planned for launch. An additional 15 maps will be released for free between launch and July next year as well, which is a big step in the right direction as it means the player base will not be divided.
Now 343 Industries does have some hurdles to overcome as last year's Master Chief Collection launch went painfully wrong. In the Game Informer magazine issue, Bonnie Ross notes that it probably would have been better off shipping each Master Chief Collection title separately, rather than attempting to bundle it all on one disc. In the future, every single Halo title will have a beta test before releasing in an effort to avoid anymore bad launches.
You can buy the latest issue of Game Informer magazine, HERE.
Discuss on our Facebook page, HERE.
KitGuru Says: Halo 5: Guardians is set to launch this October, meaning Microsoft will likely have its biggest holiday season yet. Not only that but it also has the exclusive on the next Tomb Raider, which will likely help push sales a ton this year. Have any of you been following the Halo series up to this point? Any plans to play the next one?