Trek Industries hasn't had the best week, the Steam Summer Sale is well under way but the studio found its game 'Orion: Prelude' abruptly taken off of Steam due to a DMCA request from Activision, who claimed that the game ripped off gun models from Call of Duty: Black Ops III. At first, Trek Industries denied this claim and the studio announced plans to fight the takedown but now a few days later, they have admitted to ripping off some Call of Duty assets and have let go of their artist.
There is more to this story, neither Valve nor Activision got in touch with Trek Industries before pulling the game from Steam. The DMCA also had no specific information on offending assets, so investigating the problem took a bit longer. On top of that, Trek Industries is a 'remote developer' meaning they don't have an office filled with employees, instead they all work from different locations and bounce files around.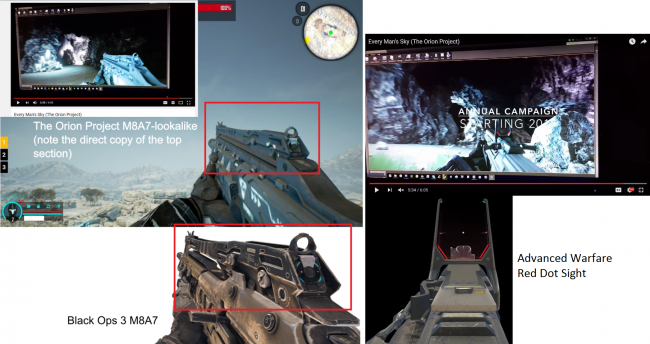 Image source: Imgur
After wrapping up investigation and finally managing to get some specific details from Activision, the Trek Industries head, David James' updated the Steam Community in a post saying: "Last night I received evidence directly from Activision regarding assets not even mentioned in public yet. Upon receiving this it became immediately apparent that blatant rips were made. While the artist offered to remake any assets at no cost, he has now been fired immediately upon learning this. This will slightly affect production and I will get into that later."
Apparently the whole matter has now been resolved and an update to Orion: Prelude was issued, removing the offending assets. The game is now up for sale again on Steam.
KitGuru Says: Games don't get booted off of Steam very often so when it does happen, it tends to attract a lot of attention. This isn't the first time that Trek Industries has faced copyright issues but hopefully after this instance, they will clamp down on ensuring nobody is cutting corners that could get them into trouble again.