Just three weeks ago, PlayerUnknown's Battlegrounds surpassed Dota 2 as the most played game on Steam, holding well over 1,300,000 players at once. Since then, the game has continued to grow, with PUBG surpassing two million concurrent players this week. Unfortunately, the sheer amount of players PUBG is receiving also means that the developers can't reset the online leaderboard just yet.
As you can see from the screenshot below, PUBG surpassed 2 million concurrent players today, practically dwarfing the player counts seen in the rest of the top ten.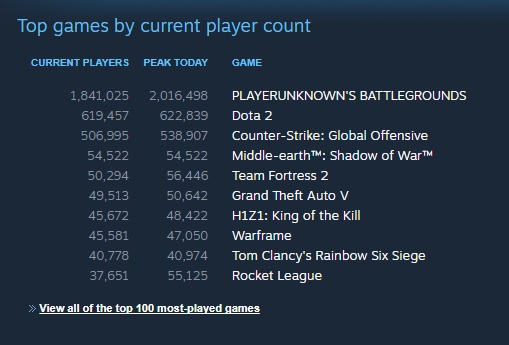 The only downside to this is that the developers are unable to go ahead with the planned leaderboard reset. The next 'season' for the game was due to go live earlier this week but due to the sheer number of players, the developers are concerned that their servers wouldn't be able to handle it. Over on the Steam Community page, Bluehole wrote:
"We were planning on starting a new season on October 11th at 11AM KST / 4AM CEST / October 10th at 7PM PDT as mentioned in a previous announcement. However, our concurrent users have been increasing rapidly, and we are genuinely concerned that we may not be able to provide you with a comfortable and seamless gaming experience by starting the new season immediately. In order to deliver a more reliable service, we would like to make some back end improvements."
Now the online leaderboard will reset on the 17th of October instead. In the meantime, Bluehole will be ensuring the servers can continue to handle the rapid growth of the PUBG playerbase.
KitGuru Says: PUBG is showing absolutely no signs of slowing down. Part of the continued player growth is down to the game's launch in China but even before that, the game was doing incredibly well. Have any of you not tried PUBG yet?