Twitch is often a platform used to not only stream games, but to promote them too. Many game publishers will pay for sponsored streams of their games to help drum up sales and soon, you will be able to buy those games directly through Twitch as well. Today, Twitch announced that starting in the Spring, you will be able to buy games directly from the streaming site with revenue being split between the developer, Twitch itself and partnered streamers.
Soon when you are watching a streamer playing a supported game, the option to purchase that game will appear underneath the video itself. Hitting purchase on someone's channel will direct 5 percent of the revenue to the streamer, meanwhile the developer gets 70% and Twitch gets the remaining 25%. If a viewer spends more than $4.99 on a purchase, then they will earn a 'Twitch Crate', which will contain special rewards like chat badges, bits (a digital currency used to donate to streamers) or chat emotes.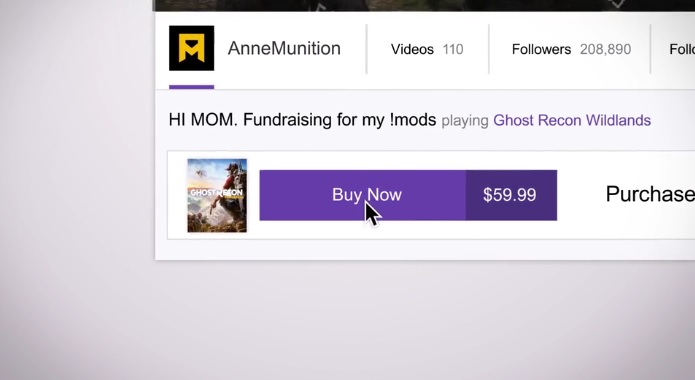 Aside from full games themselves, in-game items and DLC will also be available through Twitch. Revenue from these sales will also be split between the developer, Twitch and the streamer whose page you hit purchase on. Purchases will all be made using an Amazon account and will be available worldwide, so you won't be blocked out depending on region.
Aside from that, Twitch will have its own launcher for games bought through Twitch. However, you will also be able to run games through existing services, like Steam, uPlay or Origin. So far, publishers like Ubisoft, TellTale, Paradox Interactive, Hi Rex Studios, Double Fine Games, Devolver Digital and more have partnered up to be part of this new program. Twitch will be selling these games through partnered and non-partnered channels, but only the former will be able to generate revenue.
KitGuru Says: While the idea of conveniently being able to purchase the game you're already watching on Twitch sounds good in theory, I imagine this will bring in some conflict of interest issues, especially if there is more monetary gain to be had from streaming specific games and selling it to an audience. Then again, that might be a more cynical view of the situation. How do you guys feel about Twitch selling games directly now?