Back at CES in January, Kingston first revealed its brand new DataTraveler Ultimate GT USB drives, packing a massive 2TB of storage into a well-built thumb drive. Now after a couple of months of finalising details, Kingston is finally ready to start shipping the world's highest capacity USB drive, though it'll cost you a fair bit to get one.
As you can see from the image below, the DataTraveler Ultimate GT is quite hefty for a thumb drive. It is narrower than competing portable SSD solutions, such as Samsung's T-series drives but it is quite a bit thicker.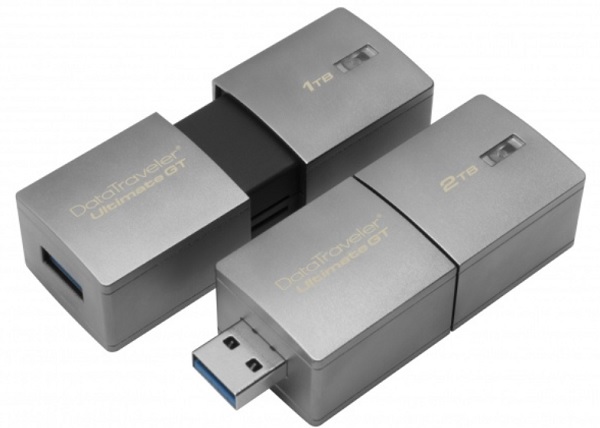 The idea here is to offer power users with massive amounts of data storage in a small form factor, with 2TB of space here, you could store up to 70 hours of 4K video for instance. This DataTraveler is built with a zinc-alloy casing, making it sturdy and shock resistant so your data should withstand a couple of drops, the USB 3.1 interface should also ensure good speeds, though exact read and write speeds have not been revealed just yet.
The DataTraveler Ultimate GT will come in two versions, a 2TB and a 1TB, both of which are backed by a five year warranty. The 1TB model will cost around $940 while the 2TB model will cost around $1620.
KitGuru Says: These USBs cost as much as a good PC or laptop on their own so these definitely won't be mainstream products. Still, they may well find their niche amongst the professional crowd. How much storage do you guys usually take on the go with you? I have a 128GB USB myself but I've never come close to filling it up.