Grand Theft Auto V's extensive multiplayer mode, GTA Online, is set to get another big update next week, adding in several new luxury items. The update is titled "Ill-Gotten Gains" and will be split in to two parts, the first of which will add in an Airplane made of solid gold for you to fly around.
There will of-course be other luxury themed vehicles and accessories, although not everything has been revealed just yet. In Rockstar's announcement, the developers gave some background as to why these items are suddenly appearing in the GTA Online world, which is great for keeping everything 'lore friendly': "Due to a surge in high-end crime across southern San Andreas, demand for luxury goods and services is at an all-time high. Upscale merchants of all kinds are scrambling to fill their inventories to serve the newly wealthy."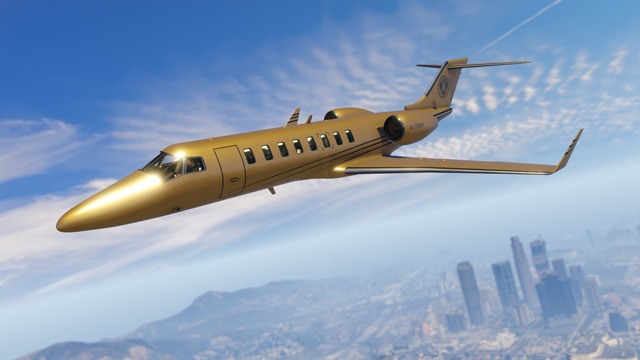 The first part of the "Ill-Gotten Gains" update is heading to us next week, with the second part coming later on in the Summer. This is good timing too, people will have plenty of cash burning a hole in their pockets now that the Heists update has been around for a while.
Grand Theft Auto V finally hit the PC in April and so far, it has been praised by many as one of the best PC optimized games in recent memory. So far there is no news on any single-player story expansions but Rockstar has been updating Grand Theft Auto Online fairly regularly ever since its launch back on the Xbox 360 and PlayStation 3 in 2013.
Discuss on our Facebook page, HERE.
KitGuru Says: I imagine soon I'll log in to Grand Theft Auto Online to be greeted by solid gold airplanes crashing in to each other. Are any of you still playing GTA Online? Have you not picked up the game yet?