We are back with day 2 of Computex 2015. Today our man on the ground, Leo Waldock, hit the MSI press conference, where they revealed a new line of laptops, future plans for the Nightblade pre-built PC and made mention of some new motherboards and features coming to future products.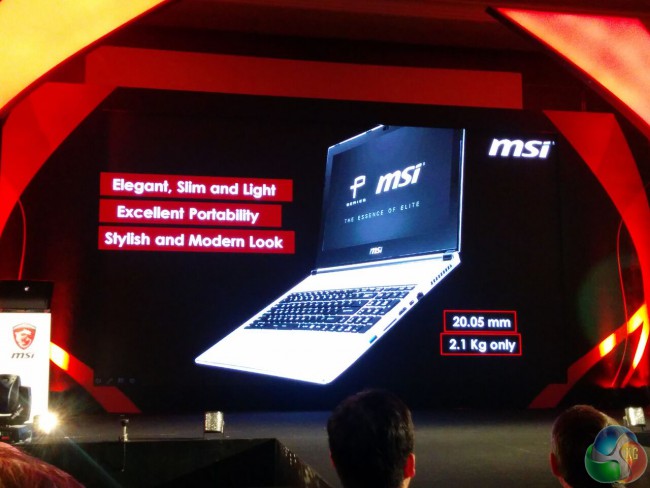 Kicking things off, MSI has announced its new P-series of laptops, which come in at 20.05mm thick. These new laptops are aimed to be thin and light, featuring new True Color Technology, meaning that all laptop screens will be tested and calibrated before leaving the factory. There will be three gaming notebooks hitting the P-series lineup, including the PC60m, PE60 and the PE70.
From there, talk shifted over to graphics cards. MSI has revealed today that it has sold its 100 millionth Nvidia GeForce GPU, which is quite the milestone. The announcement even featured a quote on the Twin Frozr cooler design from our very own Allan Campbell, the head of KitGuru.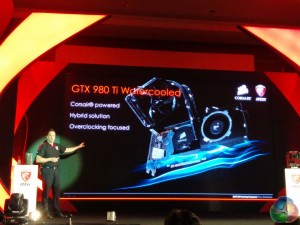 Yesterday during a Corsair press conference, the company made mention of pre-watercooled GPUs hitting the market. MSI has since confirmed that there will be a Corsair H55 cooled GTX 980 hitting the market during Q3 of this year.
Following that, MSI touched on two new motherboards coming out, the Z97A Gaming6 and the X99A Godlike Gaming. These boards are expected later this year and will have features like controllable RGB lighting, a new on-board audio chip, USB 3.1 types A and C among other updates. Skylake is apparently due within a few months time as well.
From there, attention swiftly turned to the Nightblade gaming PC. Some of you may recall that last year, MSI launched a small-ish gaming PC called the Nightblade and we did our usual thing and put out a review.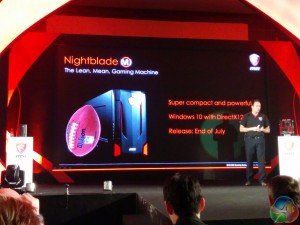 Now it looks like MSI is looking to expand the Nightblade lineup with a new gaming PC, which will be called the Nightblade M1. This PC will benefit from DirectX 12 and Windows 10 so don't expect it to be out until sometime after July. It is said to feature a Core i5 CPU alongside an Nvidia GTX 970 or 960 graphics card.
Discuss on our Facebook page, HERE.
KitGuru Says: Lots of good information coming from MSI today. Stay tuned for more Computex 2015 updates. 
Thanks again to Leo Waldock for attending Computex 2015 on behalf of KitGuru.