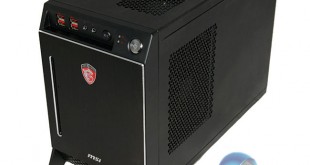 In the last year we have seen a rising demand for smaller chassis such as the excellent Bitfenix Prodigy and Aerocool Dead Silence. With this in mind MSI are launching their MSI Nightblade – a barebones configuration to target the demanding enthusiast audience who feel that 'smaller is better'. The barebones includes the case, an MSI Z87I gaming motherboard, a Dragon Fan and 80 Plus Gold certified Silverstone 600W power supply. MSI say that this diminutive 16 litre case can house the most powerful components available … so today we put their claims to the test.
MSI will be selling the Nightblade chassis in a barebones configuration however some of their partners such as Scan, Overclockers UK, Yoyotech, Cyberpower UK and MESH will be selling in a fully configured state. This makes sense, because while many people like to build their own system, some just don't want to deal with the hassle, especially when working in the confines of such a small chassis.
Today we will be testing the MSI Nightblade with some of the highest specification components we can use – including an Intel Core i7 4770k, two Plextor Solid State drives in Raid 0, and an MSI R9 290X graphics card. MSI bundled their optional custom CPU cooler so we include that in the mix.

Can the case handle the heat?