Back in 2012, Michael Thommason officially broke the world record for the world's largest video game collection, so far his record has not been broken but it looks like he is ready to move on as the full 11,000 game collection is on sale with the bidding currently sitting at $5,678.00.
The 11,000+ strong game collection features complete catalogues from several game console generations and since Thommason broke the world record, he's actually added another 400 games to it, sweetening the deal for whoever wins the bid. Here's a look at his full collection and storage space:
[yframe url='http://www.youtube.com/watch?v=JWfx2ZX5BuM#t=162′]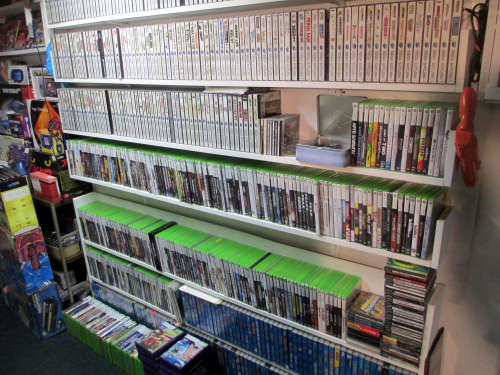 The collection includes complete catalogues for the following platforms: 3DO, Action Max, AGP X-System, Atari 5200, Atari 7800, Atari Jaguar, Atari Jaguar CD, Atari Lynx, Buzztime, Captain Power, Game Boy Advance e-Reader, Neo-Geo Pocket Color, Nintendo Virtual Boy, NUON, Sega CD, Sega Saturn, Sega Dreamcast, Tapwave Zodiac, Tiger Game.Com, Turbo-Grafx-16 CD and Turbo-Grafx-16 Super CD.
He has near complete catalogues for a few other consoles but still owns plenty of games for almost every platform from the past and present. While the record holder is passing on his collection, he is not leaving gaming completely and by the sounds of things, he is going to be keeping very busy indeed, Thommasson wrote on his auction listing:
"Although I am selling this collection, please do not misunderstand and come to the conclusion that I am leaving the hobby. That is definitely not the case. I love games and they are pivotal part of my identity. I will continue to champion them. I will continue to write for periodicals and publish books, teach my college gaming classes, occasionally partake in competitive gaming, operate GDG's Homebrew Heaven, publish new games and gaming products, write business plans, make appearances on television, film and radio, manage retail gaming stores, help with trade shows, work as a consultant for third parties, et cetera."
Discuss on our Facebook page, HERE. Check out the auction listing, HERE.
KitGuru Says: These sort of listings always blow up eventually, the bidding ends on the 15th of June so there's still plenty of time for the money to stack up. Here's my question to you guys: How much should 11,000 games be worth? Does the individual quality of each game matter or is it more about the collection?