An Ubisoft employee went ahead and teased a new Prince of Persia game on Twitter yesterday, however, following on from the tweet, Drew James, an Ubisoft Reflections Engineer, had his Twitter feed pulled offline. The Twitter profile for @UbiDrew, now redirects to a 404 page.
The take-down of the account was first noticed by VGLeaks just a few hours after a tweet went out saying: "What next for #Prince of Persia?"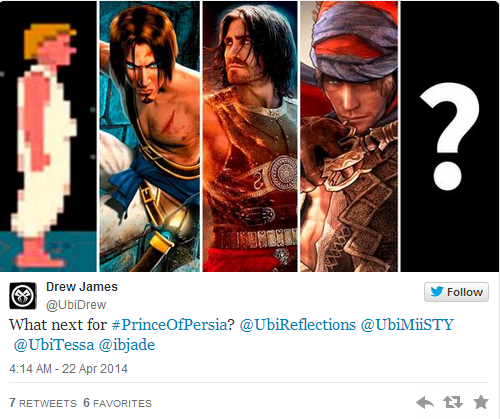 The image posted shows the different variants of the Prince of Persia, including his previous in-game models as well as the live action version of the character. There have been rumours of an upcoming 2D Prince of Persia game that would run on Rayman's UbiArt engine. The prince himself will be animated to look like he is 3D, similar to how Rayman looked in Rayman Legends.
Ubisoft has previously stated that the Prince would return one day when the time is right but there had been no news until now. There's no word on what happened to Drew James either as so far, Ubisoft has chosen not to comment on the Tweet or the account's disappearance.
Discuss on our Facebook page, HERE.
KitGuru Says: I really enjoyed Prince of Persia The Sands of Time as well as its sequel, The Warrior Within, I never got around to playing Two Thrones though. I wouldn't mind seeing a return to the series but what do you guys think? Would you like to see a new Prince of Persia title and if so, what would you like to see included gameplay wise?
Source: Eurogamer