Although Nvidia Corp.'s first-generation Shield video game console has not managed to become popular, the company is not giving up and is already working on the second-generation system. One of the first prototypes of the new Shield based on Tegra K1 system-on-chip has even been spotted in AnTuTu benchmark database, an indicator that many Shield 2-related design decisions had been finalised.
Based on the information from AnTuTu databank, the new Nvidia Shield 2 is powered by the Tegra K1 system on-chip with four ARM Cortex-A15 cores (4-plus-1 architecture with one low-power core, clock-rate of the high-performance cores varies between 51MHz and 2524MHz) and Kepler architecture graphics processing unit with 192 stream processors, four ROPs [raster operating units] and so on. It is noteworthy that to speed up time-to-market of the Shield 2 Nvidia decided to use the first version of Tegra K1 featuring ARMv7 cores, not the high-performance Tegra K1 with custom Nvidia Denver ARMv8 cores.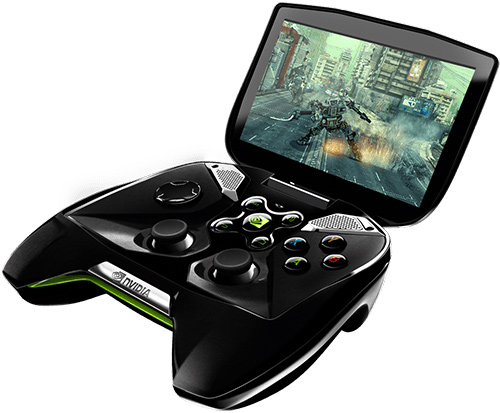 The test model of the new Shield 2 video game console from Nvidia features 1440*810 display, 4GB of LPDDR3 memory (ARM Cortex-A15 supports 40-bit large physical address extensions [LPAE] tech and can address up to 1TB of RAM), 16GB of NAND flash storage as well as Google Android 4.2.2 operating system.
In case the information is correct, then the Nvidia Shield 2 portable video game console will feature a larger-size display with 1440*810 resolution (the first-gen Shield sported 5" screen with 1280*720 resolution), which will mean a re-worked design as well. While the Kepler-based GPU should feature considerably higher performance compared to custom GeForce core inside the original Shield, Nvidia still decided not to install a full-HD display onto the console.
Expect the Shield to have the same controls as on the first-gen: a touch-screen, a D-pad, two Analog Sticks, L/R bumper and trigger buttons as well as X, Y, A, B buttons. Most likely the Shield 2 will inherit many capabilities of the first-gen console, including 2*2 MIMO 2.4 GHz + 5GHz Wi-Fi 802.11n (802.11ac is possible), Bluetooth 3.0, micro USB 2.0, mini HDMI, 3.5mm audio jack, 3-axis accelerometer, gyroscope, GPS and other things.
Keeping in mind that the original Shield weighs 579 grams (20.42 oz), more than Apple iPad Air, the Shield 2 should probably be lighter and sleeker.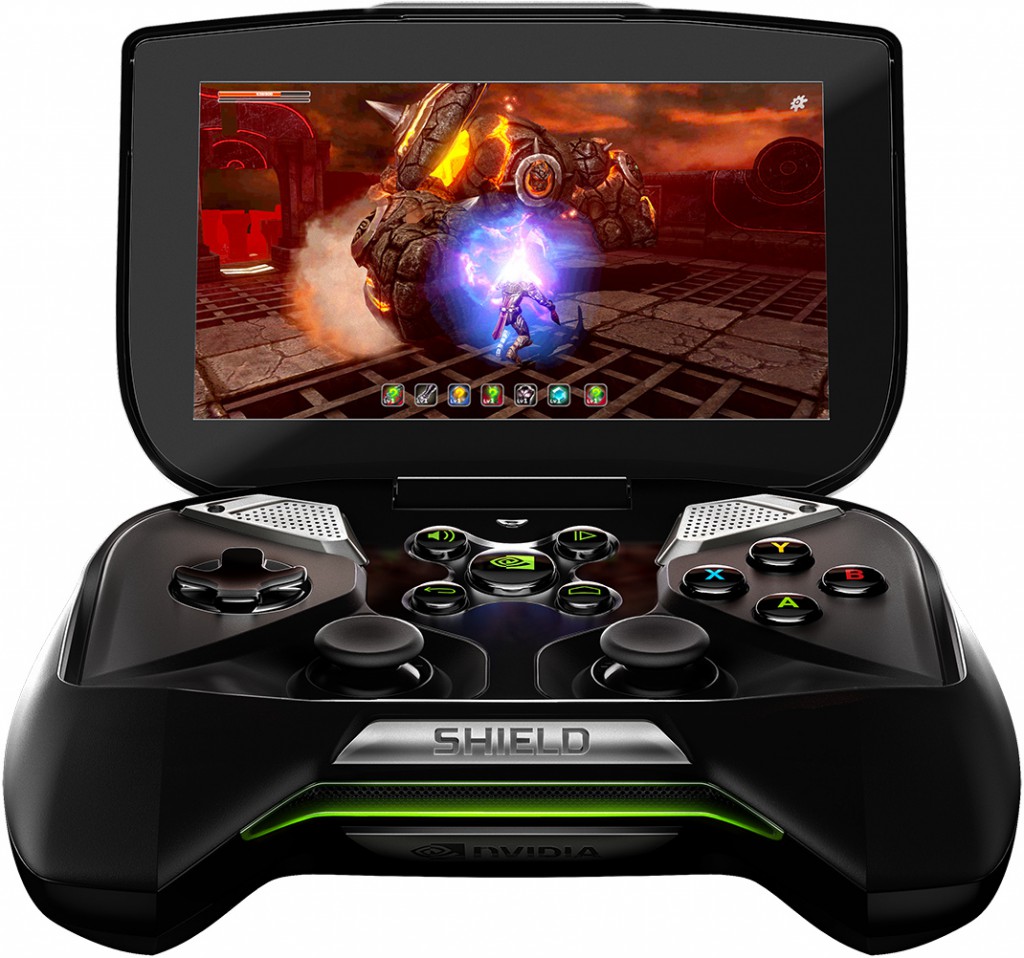 While it is hard to say when the new Shield is supposed to be released, it is logical to expect it to be unveiled in early Summer, just when Nvidia promised other Tegra K1-based devices to emerge.
Nvidia did not comment on the news-story.
Discuss on our Facebook page, HERE.
KitGuru Says: When it comes to hardware, the new Shield 2 features were generally expected: Tegra K1, a lot of LPDDR3 memory, the latest version of Google Android, etc. However, specifications do not determine success of products these days. The original Shield could stream/Miracast PC games and play Google Android titles, yet it has not become popular on the market. The main reasons for that were high price and reluctance of gamers to pay a lot to play Android games that run on smartphones and tablets, which a lot of people already own. To make Shield 2 more appealing than its predecessor, Nvidia will either have to sell it at a low price-point (which it cannot do since it does not earn a lot even on exclusive Tegra-optimised games, so it has to make profits on Shield 2 hardware) or ensure that there is a set of AAA titles that run exclusively on Shield (which is a hard thing to do as big publishers want their new games to work on different hardware platforms). All-in-all, while the Shield 2 will be better than the original one, its actual market success will depend on multiple factors and only time will tell whether it will be more successful than the original game console from Nvidia or not.