Last night, Valve announced its next major update for Dota 2, known as Dota 2 Reborn. With it, the popular competitive game will get a new engine, likely Source 2 although Valve did not mention it by name, and there will be a new user interface with support for custom matches. The open beta is set to launch next week and apparently even more will be revealed then.
In a post on the Valve blog, the company wrote: "Today we are announcing the Dota 2 Reborn Beta, which brings with it a new interface, new engine and Custom Games. Everything in the dashboard has been completely redesigned utilizing a new UI framework, and the engine that powers the game has been fully replaced."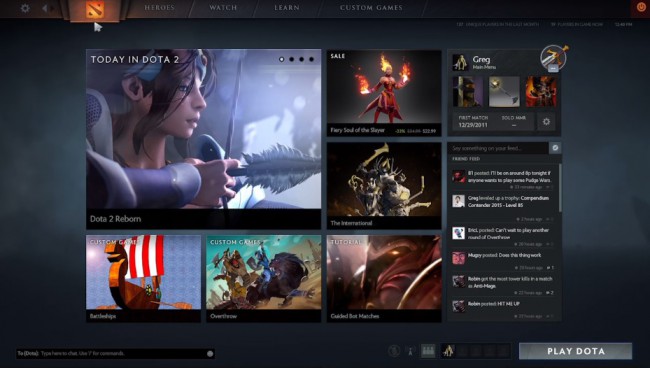 "On today's update page we will be giving you a preview of the new interface. Early next week we'll be talking about Custom Games, and later that week we'll conclude with various details about the new engine and launch the open beta. Throughout the beta we'll be releasing frequent updates in order to fix bugs and make changes based on the feedback you provide. As you browse around in the new client, you'll notice a few things that aren't fully functional yet. Additionally, our focus has been on the dashboard so you'll find the in-game HUD currently looks the same."
Hopefully the launch of Dota 2 Reborn will also mean custom maps or a few extra maps as right now, that is one area where the game is lacking. One thing that may disappoint some is that this means Dota 2 is likely to be the launch game for the Source 2 engine, rather than a new Left 4 Dead, Portal, Half-Life or Counter-Strike game.
You can read more about Valve's new features planned for Dota 2 Reborn on the official page, HERE.
Discuss on our Facebook page, HERE.
KitGuru Says: The good news in all of this is that even if you don't like Dota 2, the new engine Valve is referring to is likely Source 2, which many have been waiting on for years.