Nvidia and Ubisoft have teamed up for graphics card promotions plenty of times in the last couple of years, so it may not be a total surprise to learn that Nvidia might be teaming up with the publisher once again this year to offer a free copy of Watch Dogs 2 with the GTX 1070 and GTX 1080.
This would be similar to back in 2014, when the original Watch Dogs came bundled with certain Nvidia graphics cards. The news isn't official yet but Videocardz has obtained the promotional image, which seems to be official enough.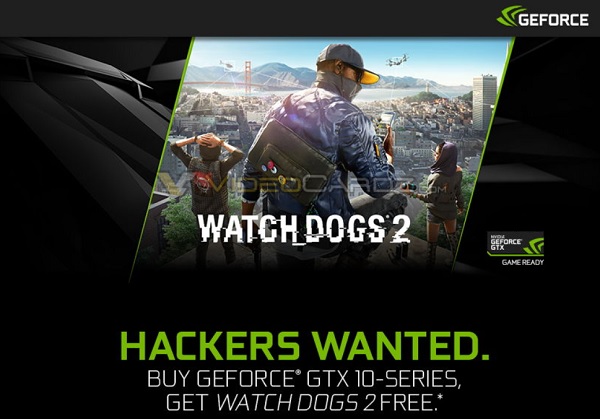 Image Credit: Videocardz
While Watch Dogs 2 is reviewing better than its predecessor at many outlets, do keep in mind that most have only played the console versions so far. The PC version for Watch Dogs 2 doesn't release until the 29th of November and we have yet to see if it holds up well. We also don't know exactly when this promotion will be going live, it is possible that we won't see it go live until launch day.
KitGuru Says: While Watch Dogs didn't quite live up to expectations for many, the sequel does appear to be a little better, so it may be worth giving it a chance if it ends up coming bundled with any hardware purchases you may have planned. Are any of you planning on picking up a new graphics card soon? Are you looking forward to Watch Dogs 2 at all?