SEGA finally announced the release date for the much-anticipated Sonic Origins collection. Launcing on the 23rd of June, this collection looks to be the definitive way to play Sonic's early classics on modern systems. Unfortunately, the game is getting day-one DLC.
Alongside the announcement that Sonic Origins is releasing on the 23rd of June, pre-orders went live, allowing fans to gain access to the game as soon as the clock strikes midnight on the day of release. What this also revealed however was the fact that Sonic Origins is launching with multiple day one DLC packages.
Sonic Origins is launching with three DLC 'Packs'. The 'Start Dash Pack' gives users 100 bonus coins as well as access to a Mirror Mode and backgrounds for the letterboxing when playing in classic mode. The 'Premium Fun Pack' meanwhile will include hard missions; character animations in the main menu; camera controls over the main menu islands; character animations during music islands and the aforementioned letterboxed backgrounds. The 'Classic Music Pack' simply includes additional music tracks from MegaDrive/Genesis titles.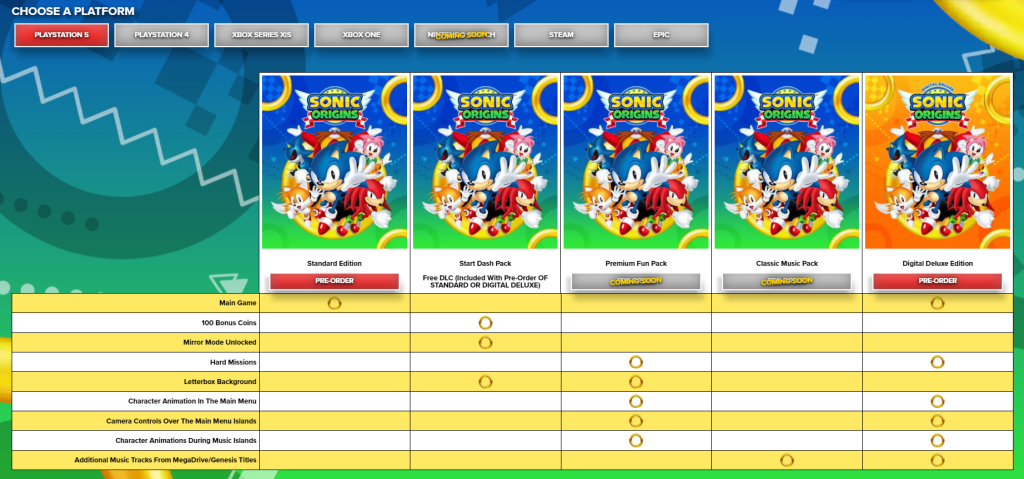 It is worth noting that the Start Dash Pack will be included with all preorders. Furthermore, SEGA is offering a Digital Deluxe version of Sonic Origins which includes all of the DLC content. The oddest part of the whole DLC situation is the fact that upgrading to the Digital Delxue version can cost as low as £4 (though this differs depending on your digital store of choice).
With arbitrary 'content' such as character animations and pleasing menus being unnecessarily locked behind such an arbitrarily priced DLC, it begs the question as to why SEGA chose to split up everything in such a weird and overly-complicated way. Sonic Origins looks to be very promising and so hopefully SEGA's shenanigans doesn't tarnish the release.
KitGuru says: Are you excited for Sonic Origins? What do you think of the DLC situation? Is there a need for 'Deluxe Editions' in your opinion? Let us know down below.