If your smartphone or laptop's main use is browsing a number of websites, then it's worth considering jumping ship from Chrome to the new version of Opera, which comes with a new battery saver mode. Purportedly, it can cut up to 50 per cent of the power draw from browsing the web.
This is all part of Opera's big push to recapture a decent share of the browser pie. It added a built-in VPN last month, as well as its own advert blocker, so the new battery saving feature is in good company. For now at least, Opera is making potential industry changing tweaks to its browser.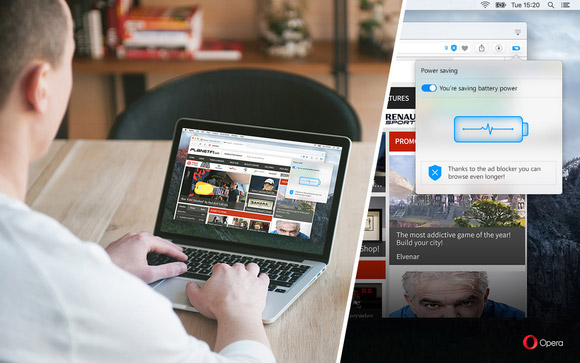 That will be especially true if the gains in battery life are repeatable in the wild. During internal testing Opera claimed that through reducing background tab activity, adapting "page redrawing frequency and tuning video-playback parameters," it achieved 49 per cent improvement in the laptop's battery, when compared with an equally utilised Chrome window.
Users looking to have a play with the new browser can download it right from Opera's site, or the iOS App and Google Play Stores, though the feature is not enabled by default. Whenever you aren't charging your device though, Ars reports that a blue battery icon will appear near the address bar. Click or tap that and you'll have all the energy saving features you need.
Discuss on our Facebook page, HERE.
KitGuru Says: It's difficult to imagine there being a mass exodus from Chrome at this point, but you never know. Do you think these new features can make Opera a viable alternative?