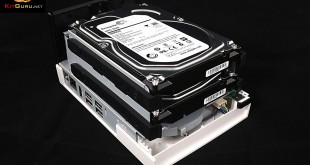 At first glance the QNAP TAS-268 looks like a conventional two bay NAS that is a bit on the small side, although it dwarfs the single bay TAS-168 which is truly tiny. The curious thing is that the size of TAS-268 is pretty much the least interesting feature of this shiny piece of QNAP hardware as this is the first NAS we have seen that runs dual Operating Systems. In addition to QNAP's QTS 4.2 software this NAS also runs Android 4.4.4, or KitKat if you prefer.
Watch via our VIMEO Channel (Below) or over on YouTube at 1080p60 HERE
Specification:
CPU: ARM 1.1 GHz dual-core processor
Memory: 2GB DDR3
Flash Memory: 4GB
Hard Disk Drive: 2 x 3.5″ SATA 3Gb/s
More information over HERE.
NOTE:
For the HDD compatibility, please visit https://www.qnap.com/compatibility
We received the QNAP TAS-268 with a pair of 4TB Seagate ST4000NV000 drives installed. In this 8TB form the NAS costs a little under £450 which is fairly expensive when you consider the unpopulated NAS is available for £167 or £224 with a 1TB drive. Those 4TB Seagates cost £120 each so by our reckoning the version on test should cost about £400.
As you will see in our video and photos, it only takes a moment to remove the cover to reveal the two drive mounts. These mounts use clip-on rails that are tool-free, however you are unable to use a 2.5-inch HDD or SSD as the mounts are only compatible with 3.5-inch drives.
Turning on the NAS takes a while as the dual core Realtek ARM processor grinds into life. We have to assume an ARM chip was a necessity to run Android but the consequence is that the QNAP is relatively slow in terms of performance and general grunt.
You get two distinct experiences with the TAS-268 depending on whether you connect across your network using the browser interface or directly connect a TV or monitor to the HDMI port along with USB mouse and keyboard.
In network mode the TAS-268 is a conventional QNAP NAS running QTS with performance about one quarter of the Celeron powered QNAP TS-453mini.
When you connect directly to the TAS-268 it essentially becomes an Android powered mini PC so you can head off to the Google Play store and install your favourite media streaming software without a second thought.
There is a third way to look at the TAS-268, as you will see in our video, and this is to consider the Android device as a huge smart phone or tablet. While it is possible to play games and suchlike this is a bad idea as you lose the touch screen interaction that you get with a hand held device.
It is also worth stressing you only get to use the Android functions when you are directly connected to the TAS-268. The logical way to use this NAS is to connect it to your TV (like a Media Centre device) with an Ethernet connection in the rear to get you on-line and allow you to load the QNAP with files from your PC and other sources.
On the subject of network connections it is a real shame the TAS-268 doesn't have Wi-Fi.
Acoustics Performance
Perhaps the biggest single gripe we have with the QNAP TAS-268 is the noise that it produces. Those Seagate drives are nearly silent however the small cooling fan in the NAS make a persistent low-level noise that really grates. This wouldn't be an issue with a traditional NAS but any device that is intended to sit next to your TV should be as quiet as possible.
The vexing thing here is that the TAS-268 only draws 20W at the mains socket so common sense says it should be a trivial matter to cool this device and if the cooler was more sophisticated it would probably be very quiet.
Performance
Once the NAS is up and running it feels responsive and reasonably fast however a bit of work with a stopwatch shows that throughput is fairly slow. This is surely due to the dual core ARM processor but it isn't really an issue, provided you use your common sense.
This isn't a NAS intended for work groups or offices. Keep the number of users to a small handful and you will be fine. You have enough speed to stream movies and that is really all that matters.
Closing Thoughts
The QNAP TAS-268 is a peculiar NAS that answers a question that we had not previously considered. If you use Android media devices and want a load more storage then Bingo, you have a result, TAS-268 is two devices in one and you can install Terabytes of storage with ease.
On the other hand if you use Android and have no interest in getting to grips with NAS the TAS-268 can be a bit of a mixed bag. There are times when is it an Android device and others when you cannot ignore the QNAP QTS side of things. For example if you want remote access and need to log-in to the NAS to access your files it is all NAS, and that can be intimidating for the noob.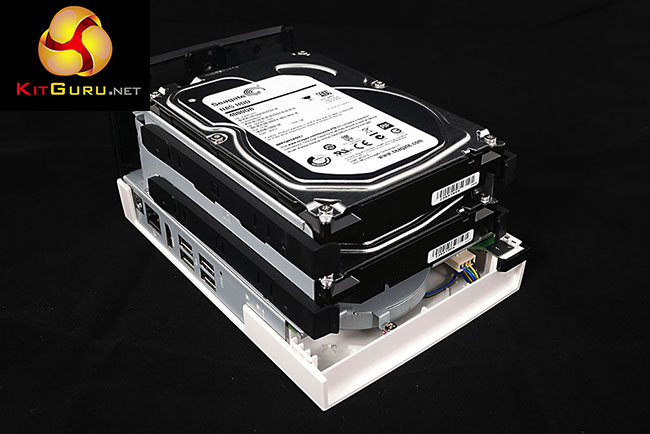 If you treat the TAS-268 primarily as a regular NAS that also has the ability to run Android software, it all starts to make sense. Clearly it helps if there is Android software that you want to run on your TV that will use the movies, photos and music you have stored on the hard drives or somewhere out there in the cloud.
When you are using Android you get the added bonus that you can use the QNAP remote control to navigate the software.
Overall QNAP TAS-268 is an interesting device that delivers on its own promises however it feels as though it is catering to a small slice of the NAS market.

Buy from Overclockers. £224 inc VAT with 1TB (HERE). £167 inc VAT without drives (HERE).
£446 inc VAT with two 4TB Seagate NAS drives (HERE).
Pros:
Dual OS QNAP QTS and Android 4.4.4.
An easy way to add a huge amount of storage to your Android ecosystem.
Four USB 2.0 ports for peripherals.
One USB 3.0 port for transferring files.
Neat form factor.
Nifty remote control.
Cons:
Slow dual core processor reduces performance.
No Wi-Fi.
Cooling fan is persistently noisy.
Would be easier to simply use a Google Nexus Player on your TV.
KitGuru says: Gadget freaks will love TAS-268 while casual users may be overwhelmed.