Last year LG Electronics acquired assets related to the webOS operating system from Hewlett-Packard. Rumours about possible TV-sets based on the operating system started almost immediately after LG finalized the deal, but the company did not confirm the information. Nonetheless, a leaked photo of a TV, published on Thursday, clearly points to a webOS powered television from LG.
The image published by @evleaks depicts an LG TV-set with a brand-new menu interface. The quality of the photo implies that this is a leaked press image. Judging from he image, The TV looks to come with pre-loaded YouTube, Facebook, Skype, Twitter, Internet browser and some other applications. Design of the webOS-based TV-set resembles current-generation LG products, but is not the same. It is noteworthy that the TV's bezel appears to be even thinner than today's TV-sets though.
The Verge web-site claims that LG's webOS-powered TV features a dual-core application processor, 1.5GB of RAM and supports multi-tasking – and industry first for smart TVs. Other technical details are unknown, but it is logical to expect full-HD (1920*1080) resolution, IPS panel and LED backlighting.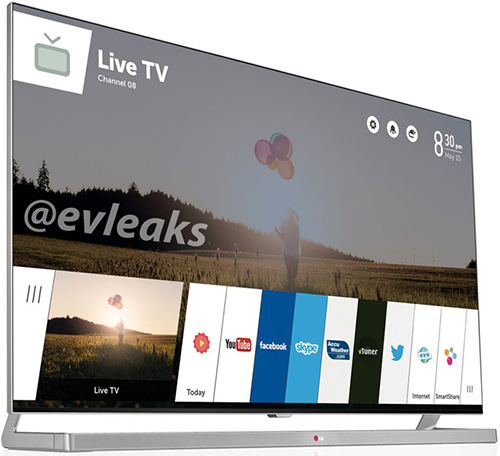 It is believed that LG Electronics will officially introduce its first TV or range of TVs equipped with the webOS operating system at the Consumer Electronics Show 2014. That means we should hear something official regarding these TV(s) sometime shortly after 7th January.
The webOS operating system was originally developed for smart mobile devices by Palm and launched in early 2009. Hewlett-Packard acquired Palm in April, 2010, but eventually abandoned webOS-powered smartphones and tablets and sold assets related to the operating system to LG in 2013.
KitGuru Says: Looks like smart TVs are getting closer to fully-fledged personal computers, which is clearly a good thing.