Microsoft has been drip feeding us details about the upcoming Windows 10 Creators Update for a few months now and while it is set to be a major update, Microsoft does have more planned for the rest of 2017. The Creators Update will bring along native Windows support for things like VR and Augmented Reality, a new Game Mode feature, a new version of Paint and more. However, there is also a second major update planned for this year.
Rafael Rivera was able to get his hands on Microsoft's Windows 10 update timeline earlier this week, showing the Creators Update scheduled for the first half of this year, with a second update coming later on in 2017.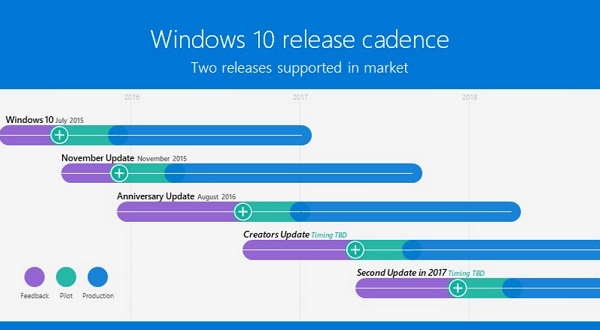 This particular slide first appeared at a Microsoft event in Australia last week but doesn't reveal any details about what to expect from the next major Windows 10 update but perhaps we will see Microsoft build in more features for VR or AR headset users. It would also be nice to see some more gaming improvements as right now, the Windows 10 Store is pretty abysmal for finding, buying and installing new games.
KitGuru Says: The Anniversary Update for Windows 10 caused a few problems so hopefully the Creators Update and this future update will be well-tested beforehand so that we can all have a smooth transition. What do you guys think of Microsoft's plan to cram two major OS updates into a single year?