Just as expected, Microsoft has begun rolling out the Windows 10 1909 update this week, otherwise known as the November Feature Update. This time around, Microsoft is not looking to shake things up too much, hoping to avoid the numerous issues that plagued last year's October update. Windows 10 1909 instead mainly focuses on stability improvements and unless you've deferred major updates, you should see a prompt for the upgrade on your system very soon. 
Formerly known as Windows 10 19H2, the new 1909 update will be the final major OS update for 2019, with the next feature update scheduled for the first half of 2020. It is currently listed as an 'optional update' in the Windows 10 Updates menu, so you can make the jump whenever you are ready. Given past issues though, it might be a good idea to make backups for anything important just in case- although Windows 10 1903 did introduce a roll back feature that will automatically restore your PC in the event of a corrupted install.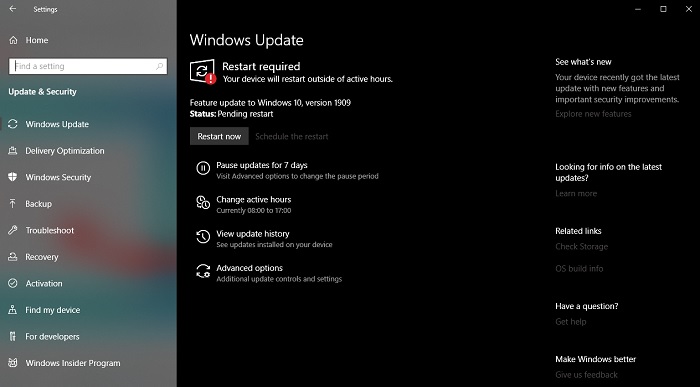 Some of the key features in this update include quicker calendar event creation from the task bar, better notification management and the ability to sort notifications, OneDrive integration with the File Explorer search bar, voice activation on the lock screen for third-party digital assistants and some tweaks to the navigation pane on the Start Menu when hovering over a program.
If you would rather not update, you can turn off update notifications and pause feature updates for up to 365 days in the advanced options menu.
Discuss on our Facebook page HERE.
KitGuru Says: Have any of you upgraded to Windows 10 1909 already? Have you encountered any issues, or has it been smooth sailing so far?