If like me you've wheeled up to LAN events like Multiplay's iSeries with your PC in tow, only to sit down on their bog-standard chairs and stare enviously at those in large, plush arm chairs and racing seats, then this week may be the best time to remedy that, as AK's bright orange racing seats are discounted for the next few days.
Yes they're loud, but they are comfortable and much like the actual racing spec. seats they're based on, they are designed to help prevent problems with lower back issues and tennis elbow so common in gaming. Each seat is made with a study metal frame and is padded with a high-quality, durable foam that unlike some types, is designed not to warp over time; so your investment should last.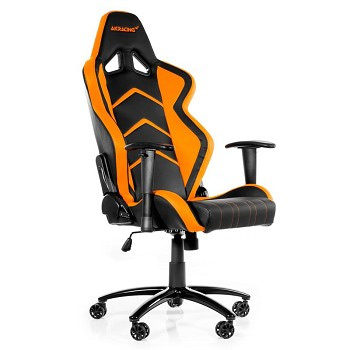 If you're a hefty guy or gal too, don't fret, as these chairs support up to 180KG. 
Currently the chairs are discounted from £230 down to £180 on Overclockers. Other colour options besides orange are available (green, red etc.) but those versions are only available at the full price.
Discuss on our Facebook page, HERE.
KitGuru Says: Do any of you guys use high-end gaming chairs? If so, did it make much difference to your life? I was pleased with the £50 office chair I bought a few years ago, but it is starting to show its age. Maybe it's time for an upgrade.