The Brainwavz S0 ships in a compact, clean white box. A picture of the IEMs is visible on the front, below some product branding.
Inside the box, the only thing we find is an even smaller hard case for transporting the earphones.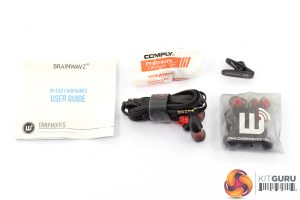 Inside that hard case, we finally get to the earphones themselves. There's also a small user guide, a small clip (to stop the cable bouncing around) and no less than nine different ear tips, including one set of Comply S-400 foam tips.
The earphones come neatly tied with a Velcro strap.
Getting a closer look at the IEMs in question, the S0 sports a flat ribbon-style cable to prevent unwanted knotting – something that we can all agree is a right pain. The cable measures 1.2m long and terminates in a 3.5mm 4-pole jack.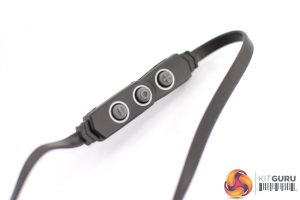 Positioned just below the left earbud we also find a small in-line controller. This allows for volume adjustment, as well as play/pause functionality and the ability to answer phone calls. This small controller also houses the S0's microphone.
A relatively big feature of the S0 IEMs is the all-metal construction – it's mentioned right on the front of the box. Brainwavz hasn't specified the exact metal used for the earphone housing, but it feels solid and sturdy – at this price, build quality is undoubtedly better than most competitors.
The drivers themselves are 9mm in size, with a rated impedance of 16 Ω. The frequency response is listed as 18 Hz ~ 18 kHz.