After years' worth of teasing, Samsung finally launched the Galaxy Fold smartphone with a flexible screen. Although its casing is much slimmer than the prototype shown on stage during last year's Infinity Display announcement, it remains to be seen whether the $1,980 handset has a market.
Samsung didn't quite manage to beat Royole's FlexPai to the punch with the launch of its foldable device, but the build of the Galaxy Fold looks significantly sturdier. The 7.3-inch tablet screen folds in half thanks to a sophisticated hinge system, designed to open and close hundreds of thousands of times. Multiple interlocking gears are hidden beneath a Samsung-branded spine for a seamless elegant look, which can actually be customised.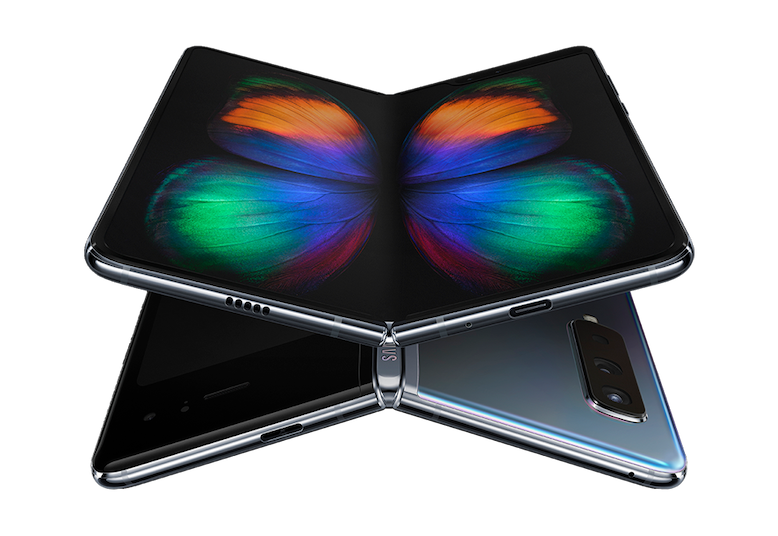 The most interesting feature is Samsung's "App Continuity." This allows users to smoothly transition between the smartphone and tablet modes, automatically dragging the open application from one display to the other. When utilising the larger screen, users can utilise Three-App Multitasking to watch a video, browse the web and chat simultaneously. In particular, Whatsapp, Facebook, YouTube and Microsoft Office have all been optimised to work with the new form factor without issue.
No matter which way the Galaxy Fold is configured, users will be able to snap a photo or shoot video. There is a single 10MP "Cover" camera when the handset is closed and dual 10+8MP front-facing cameras when the device is open to capture depth. The trio of lenses on the rear consist of the same 12MP Wide angle, 12MP Telephoto and 16MP Ultrawide angle lenses seen on the Galaxy S10+.
From 12GB of RAM and 512GB of storage, there is a powerhouse of hardware under the hood. The 7nm processor is optimised to make the most of the device's dual batteries, which form a single 4,380mAh power source. It seems as though Samsung couldn't quite get its Ultrasonic technology ready for the bendable screen, limiting the fingerprint scanner to the side.
A 4G version of the Galaxy Fold is set to come to the market on April 26th for $1980 or €2000. The company is considering a 5G version for a later date in order to provide a flexible alternative to the upcoming Galaxy S10 5G.
KitGuru Says: Despite the debatably exorbitant price, I'm willing to give the Galaxy Fold the benefit of the doubt as it paves the way for the next decade of smartphones. What I do find funny however, is that Samsung managed to avoid the notch on all of its mainstream counterparts, but couldn't quite dodge the bullet with its flexible entry. What do you think of the Galaxy Fold?