Samsung Electronics this week said that is has begun to mass produce 6Gb LPDDR3 memory devices using 20nm process technology. The new mobile DRAM ICs will be used to create 3GB LPDDR3 packages for high-performance smartphones and tablets. The thin process technology will make the new LPDDR3 solutions more energy-efficient and cheaper to make.
Samsung's 6Gb LPDDR3 DRAM ICs made using 20nm process technology feature 2133Mb/s per-pin data transfer rate, just like their predecessors manufacturer using a thicker process. Four of such memory devices are needed to build a 3GB LPDDR3 package. In theory, Samsung could stack-up even more DRAM ICs per chip to get even higher-density memory solutions for future 64-bit mobile devices.
According to the manufacturer, the new 3GB LPDDR3 package is more than 20 per cent smaller and consumes about 10 per cent less energy than the currently available 3GB package with 6Gb LPDDR3 chips fabricated using Samsung's previous-generation 20nm-class (i.e., 21nm – 29nm, to be precise) process technology. Samsung also claims that manufacturing cost of the new 6Gb LPDDR3 solutions is more than 30 per cent lower compared to previous-gen 6Gb LPDDR3 DRAMs.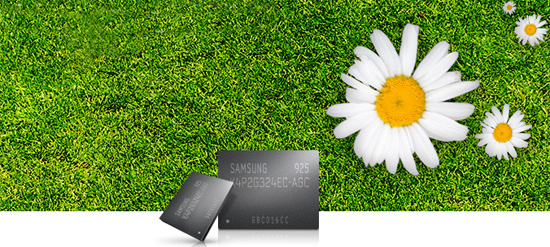 "Our new 20nm 6Gb LPDDR3 DRAM provides the most advanced mobile memory solution for the rapidly expanding high-performance mobile DRAM market," said Jeeho Baek, vice president of memory marketing at Samsung Electronics. "We are working closely with our global customers to offer next-generation mobile memory solutions that can be applied to a more extensive range of markets ranging from the premium to standard segments."
It is not completely clear when exactly Samsung intends to ship its new 3GB LPDDR3 packages to customers.
Discuss on our Facebook page, HERE.
KitGuru Says: Considering the fact that Samsung has not said a word in its press release concerning LPDDR3 packages with more than four of 6Gb ICs, it looks like the company either does not want to imply on its incoming mobile devices with 64-bit processors, or simply does not believe that there will be any need for more than 3GB of RAM in mobile devices in the foreseeable future.