Samsung Galaxy S5 is expected to be announced in about three weeks from now, but its pictures and main specs have already been published by various leakers. As expected, the novelty will feature an extraordinary display, a new application processor and new cameras. It is unknown whether the device will have a killer feature, but it will definitely be a very powerful handset.
In case the leaked photo of a smartphone, which is claimed to be the Samsung Galaxy S5 (SGS5), is genuine, then the product will look different than its predecessors. The novelty will sport hardware Google Android buttons, a camera with a large lens as well as two LED flashes on the back. The design of the new Samsung flagship looks rather sleek, but nothing really special by today's standards. It is unknown whether the Galaxy S5 will be made of metal or plastic.
Based on various leaks (1, 2), the Samsung Galaxy S5 will utilize a 5.25" AMOLED-type display with 2560*1440 resolution (560ppi pixel density), 3GB of LPDDR3 memory, 32GB/64GB/128GB of NAND flash storage, 16MP main camera, 3.2MP front camera, 3200mAh battery and so on. The smartphone will naturally support all the latest wireless standards, including 4G/LTE, LTE-advanced, 3G/3.5G, 802.11a/b/g/n/ac Wi-Fi, Bluetooth 4.0 and so forth.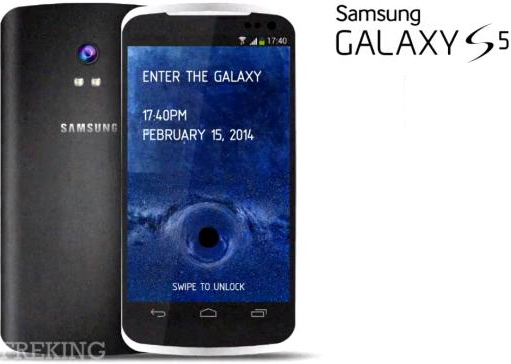 Unfortunately, just like in previous cases Samsung Galaxy S5 is projected to available with completely different application processors. At present it is reported that one SGS5 model is expected to feature Samsung Exynos 6-series chip, presumably with 64-bit ARM Cortex-A57/A53 cores. Another version of the smartphone is claimed to be powered by Qualcomm Snapdragon 805 with four Qualcomm Krait cores, quad-channel memory controller, new Adreno graphics engine, etc. The third version of the Galaxy S5 is expected to be based on the good-old Qualcomm Snapdragon 800. The aforementioned system-on-chips offer dissimilar levels of performance, various power consumption and therefore provide completely different user experience.
At present it is unknown what kind of software innovations Samsung plans to implement into the SGS5, but it is logical to expect improved personalization as well as enhanced default applications that can take advantage of the new display and system-on-chip.
Samsung did not comment on the news-story.
KitGuru Says: Looks like Samsung is further boosting the display size on its Galaxy S flagship smartphone, further blurring the lines between phones, phablets and tablets. While the idea makes sense in case Samsung competes only against Apple iPhone and needs to have an unbeatable trump, it does not seem right when compared to other handsets with large screens. The difference between 4.8", 5" and 5.25" is not too significant, but the latter screen size just makes the phone a lot bulkier and more power hungry.