Apple is thinking about releasing a version of iTunes music and content store for Google Android operating system, according to a media report. In addition, the consumer electronics giant is mulling to create an on-demand music service like Spotify in a bid to continue earning from selling music and digital content.
Apple iTunes is still the world's largest online music store, but its sales have been declining for some time now, for many reasons because of various streaming services and Internet radio-stations. As a result, Apple is considering a range of efforts to support the iTunes store and revive its revenue, reports Billboard.com.
There are rumours about three initiatives: releasing certain music albums exclusively on iTunes ahead of formal launches of CDs, release iTunes app for Android and create an on-demand subscription service.
Adding nearly a billion of new Android users to the iTunes will inevitably boost revenue of Apple's music store, but will destroy one of the key advantages of Apple iOS platform over Google Android mobile operating system.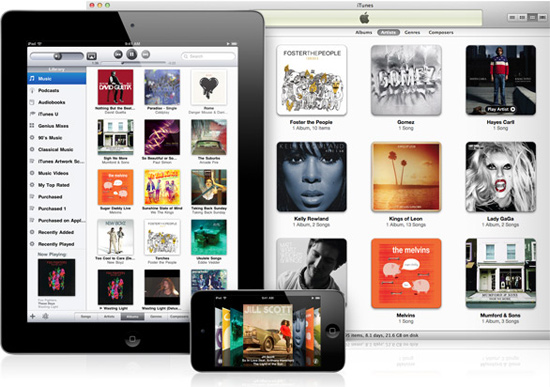 Selling albums early might make a lot of sense, but that will hardly significantly increase revenues because the service will only be used by the core music lovers who buy albums, not singles.
U.S. digital album sales were down 13 per cent for the week ending March 16, and digital track sales are down 11 per cent for that same period a year ago, according to Nielsen SoundScan. At the same time, revenue from streaming services have grown. Therefore, Apple may need a streaming music service in addition to iRadio, which has a number of limitations.
"They are feeling out some people at labels on thoughts about transitioning its customers from iTunes proper to a streaming service," says one major label source. "So when you buy a song for $1.29, and you put it in your library, iTunes might send an e-mail pointing out that for a total of, say, $8 a month you can access that song plus all the music in the iTunes store. It's all in the 'what if' stage."
Apple did not comment on the news-story.
KitGuru Says: Perhaps, to really revive iTunes, Apple needs to fulfill all three initiatives and then think beyond them to offer a completely unique service. Historically, Apple has been successful only with products/services that were exclusive on the market. Nowadays, iTunes is not even close to be unique.