Legend, a maker of luxurious consumer electronics from Helsinki, Finland, has begun to take pre-orders for customized versions of Apple iPhone 6S. The company not only accepts pre-orders, but even displays what it claims to be actual products.
Legend offers four versions of Apple iPhone 6S: gold-plated Classique and Momentum as well as rose-gold Classique and Momentum. All versions are based on the 128GB models of the smartphone, but the company naturally does not disclose any details about the handsets, such as screen resolution, system-on-chip specifications, baseband capabilities and so on.
If the images displayed by Legend are genuine and depict iPhone 6S, then it means that the new smartphones from Apple feature similar design as the iPhone 6 with little or no changes.
Legend's iPhone 6S Classique features 10 micron yellow gold plating as well as 87 VVS1 grade diamonds studded into the Apple logo. The rose-gold iPhone 6S Classique version retains original finish of the Apple iPhone 6S rose-gold model, but features diamond logo.
Legend's iPhone 6S Momentum smartphones boast with captivating patterns, hand-made leather inlays, decorative frames, precious stones and various design options.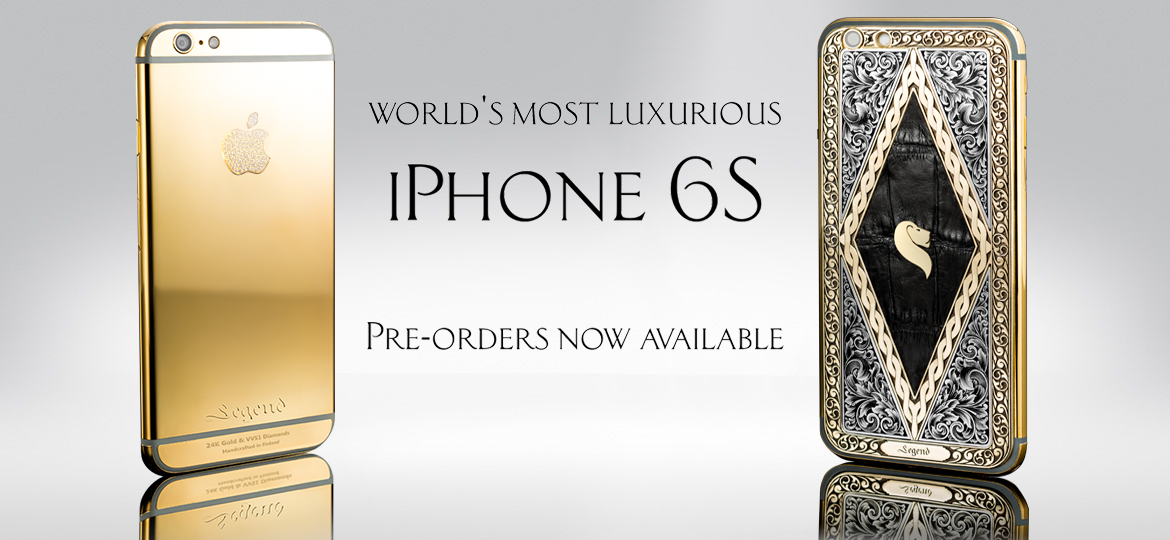 In addition to "default" Classique and Momentum models, Legend offers extra customization, such as engravings, diamond studded bezel, precious stone inlays and more. In addition, the company offers custom 24Kt gold, rose gold and platinum or black rhodium plating options for its iPhone 6S Classique.
Each Legend phone is shipped in a wooden box that includes matching precious metal plated ear-pods and a premium leather folder with the certificate of authenticity and warranty.
The Legend iPhone 6S Classique is priced at €2950, whereas the Legend iPhone 6S Momentum costs €3790. The Legend Momentum with VVS1 grade diamond studded bezel and buttons will be available for €13500. The phones are covered with a five-year warranty. All prices include VAT and worldwide express shipping.
The company plans to start shipping pre-ordered items in early October.
Legend's web-site is located HERE.
Discuss on our Facebook page, HERE.
KitGuru Says: If Legend gets Apple iPhone smartphones from reliable sources and has access to confidential information, this means that the company has just disclosed the name and design of Apple's new smartphones. But while Apple's next iPhones will look just like currently available models, Legend's luxurious versions clearly look extraordinary. The Classique version with black rhodium plating and shiny red Apple logotype should look amazing.