In many ways, Apple dictates the fashion in the world of media tablets. The company was the first to offer slates with retina-class display, 64-bit application processor and some other promising hardware. This year Apple is expected to traditionally introduce new versions of its iPads and again offer something that others don't. But instead of introducing all-new tablets, the company will upgrade its existing devices.
The current iPad Air and iPad mini with retina display are already pretty advanced thanks to 2048*1536 screen resolution, 64-bit dual-core A7 application processor with PowerVR 6-series "Rogue" graphics, global support for 4G/LTE and so on. The new iPad Air and iPad mini will be similar in terms of form-factors, but they will be powered by Apple A8 system-on-chip and will feature touch ID fingerprint sensor as well as 8MP main camera, according to Ming-Chi Kuo, an analyst with KGI Securities. While the upgrades seem insignificant in general, they may be important.
"We think the upgraded iPad Air will be launched earlier in 2014 than the iPad Air was in 2013," said the analyst in a note to clients, reports MacRumours. "The biggest changes will be A8 processor, Touch ID (fingerprint recognition), and main camera resolution of 8MP."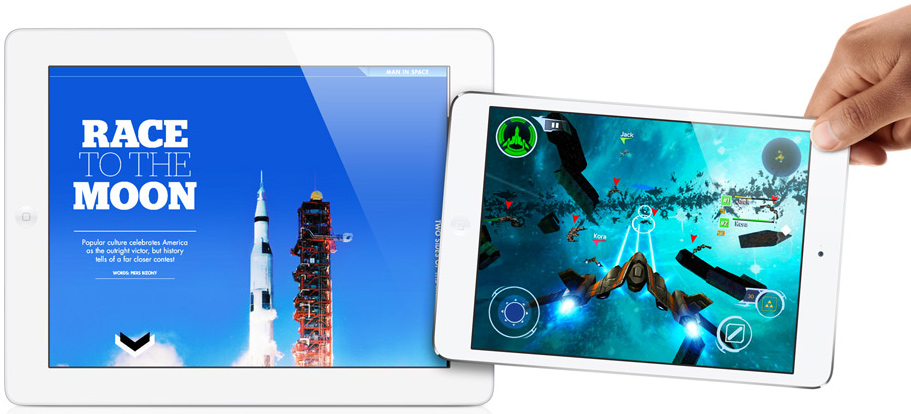 Not a lot is known about Apple's A8 application processor which will power the next-generation iPad and iPhone. While it is pretty obvious that it will be Apple's second-generation ARMv8-compatible 64-bit chip, we do not know whether it will feature four tweaked Cyclone cores (introduced in A7 in 2013), four brand-new cores, or two all-new cores. While it is logical to expect Apple to continue use Imagination Technologies PowerVR 6-series graphics processing cores, it is not clear whether the company will continue to use quad-cluster PowerVR G6430, upgrade to six-cluster G6630, or will switch to quad-cluster G6500, which supports ray-tracing and hybrid rendering (traditional + ray-tracing).
In case Apple chooses to use the PowerVR G6500 graphics engine inside the A8 SoC, it will make another revolution on the market of mobile graphics. Video games made for the new iPhone and iPad that will use hybrid rendering will look dramatically more realistic compared to titles designed for competing Google Android platform. Unfortunately, there is no evidence that the A8 will use the G6500, not something else.

The new iPads will also feature Apple's fingerprint sensor. While the touch ID fingerprint reader is nothing new and has existed on iPhone 5s for quite a while now, it will clearly be adored by various enterprises who deeply care about security. Thus, sales of iPads to business users will improve rather significantly. As a result, there will be more programs tailored for use of fingerprint reader, which will positively affect Apple's eco-system of apps in general.
While 8MP sensor on the new iPads will provide better image quality than the 5MP one, due to marketing reasons Apple is unlikely to install flash onto the backside of its media tablets. Therefore, it will barely be used to take photographs.
Apple did not comment on the news-story.
KitGuru Says: It is too early to say whether the new Apple iPad tablets will be evolutionary or revolutionary. While it does not seem like Apple is going to significantly redesign the iPad from the outside, it can certainly pack something completely unique inside.