Back in 2013, Apple gave the Mac Pro a radical redesign, removing modular upgrade paths that PC users are traditionally used to in favour of a smaller, sleeker design. Eventually, Apple admitted that it screwed up with this approach and would return to a more upgrade friendly design in the future. Now, that day has arrived, with the new Mac Pro launching this year, alongside Apple's new monitor.
We'll start off with the new Mac Pro, which despite its more traditional tower design, still comes with its own design quirk. The previous Mac Pro ended up looking a bit like a bin, the new one is jokingly being referred to as a cheese grater due to the holes found all over the front panel. While it does look odd, these do serve a practical purpose by paving the way for additional airflow.
The new Mac Pro starts at $5,999 and comes with an Intel 8-core Xeon chip and AMD Radeon PRO 580x graphics. If you have a ton of cash, this can be configured all the way up to a 28-core Xeon, two Radeon Pro Vega II GPUs and 1.5TB of memory. Pricing for the top spec has yet to be confirmed but I would guess that it will be well above $20,000. Of course, since this version of the Mac Pro is user upgradeable, you could always pick up the parts you want at a cheaper rate and stick them in.
Pricing aside, I do have some concerns about the Mac Pro's cooling. This has been an issue for a long time on Apple's MacBook Pro range, especially when using higher end CPUs. With the Mac Pro desktop, Apple is using a fanless heatsink design for the CPU and GPU, with front fans bringing cool air in and a blower style fan in the bottom corner to direct airflow around the system. That doesn't seem like the best fit if you want to keep a 28-core Xeon and dual Radeon Vega GPUs running at peak speeds and sensible temperatures but we'll have to wait and see what user reviews have to say later in the year.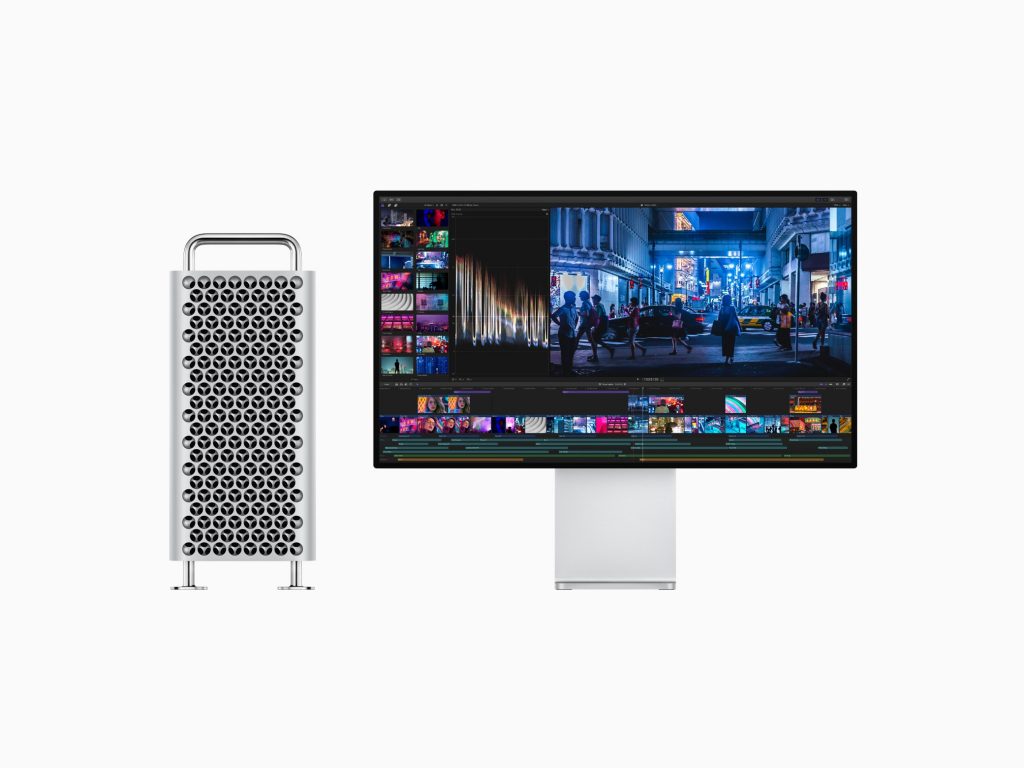 Apple is also getting back to releasing its own displays. The Apple Cinema Display has been off the market for a while now and will now be replaced by the XDR Pro monitor. As the name suggests, this isn't aimed at regular consumers but is instead aimed as a cheaper alternative to studios that rely on professional reference monitors that can cost up to and over $40,000.
Apple's Pro XDR will sit at the $5000 mark for the standard glass version, with a 'nano glass texture' version going for $6000. That money will net you a 6K resolution display with HDR. Apple has managed to provide cooling to the point where the display can maintain 1,000 nits of brightness indefinitely, while hitting 1,600 nits of brightness at peak, which is very impressive and should be of interest to film editors mastering shots for HDR output.
Considering that the XDR display is competing with reference monitors used by movie studios and film editors, the pricing isn't terrible. If you are spending $100 million to make a movie, spending an extra few thousand for better tools to get the job done doesn't seem like much of a stretch. However, in true Apple fashion, you will need to pay an extra hefty sum for all the accessories. The VESA mount will set you back an extra $199, while the 'Pro Stand' for the monitor costs an extra $999.
KitGuru Says: Apple went big on its desktop Pro line this year. It is all incredibly expensive gear but professionals that are used to Final Cut and other Apple tools will likely jump on board regardless. What do you guys think of Apple's new Mac Pro and monitor?