Apple's MacBook event kicked off today and just as previous leaks and rumours predicted, the laptop has gone through a pretty major refresh. In a move that is fairly typical of Apple, the new 13-inch and 15-inch MacBook Pros are thinner and lighter than their predecessors' but some big features have also been implemented into these new laptops, including a new 'Touch Bar' and TouchID support.
Apple kicked things off by going over its new Touch Bar and what it can do. Essentially, it is a replacement for function keys, though it adds more functionality than that, allowing apps to make use of it to display shortcuts. The display strip also recognises gestures similar to the MacBook trackpad. Gestures can feature up to ten fingers at once, making for a wide range of different actions that can be performed. The new Touch Bar also features Tough
The new Touch Bar also features a Touch ID sensor, so users can now use their fingerprint to unlock the Mac or access things like Apple Pay.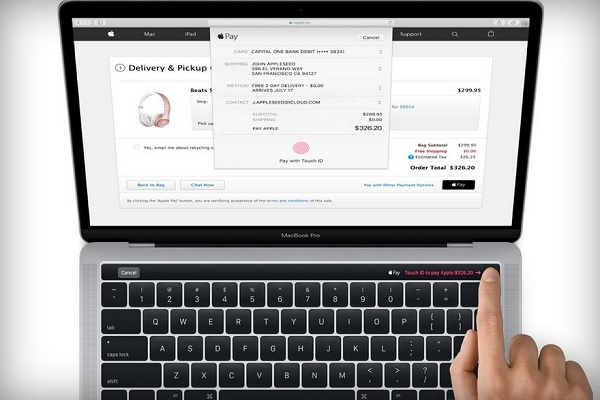 Of course, it's not all about the Touch Bar, Apple has also made some hardware changes too, with the new 15-inch MacBook Pro featuring a 67-percent brighter display with higher contrast and a greater colour gamut. Under the hood is a new SSD that can hit speeds of up to 3.1GB/s with capacities up to 2TB.
You will also find a new Intel Skylake Core i5 or Core i7 processor depending on which model you buy. This time around, the CPU is kept cool with an all new thermal architecture that should provide quieter operation and better temperatures.
Previous rumours hinted that perhaps Apple would ditch MagSafe and go all-in with USB Type-C for the new MacBook Pro. That turned out to be half true- yes MagSafe charging is gone, but it has been replaced with Thunderbolt 3 instead. These Thunderbolt ports can double as any number of connections with the right adapters and the 15-inch MacBook Pro is apparently capable of driving two 5K displays over its Thunderbolt connections.
For music enthusiasts, you can breathe a sigh of relief as Apple has shown mercy on the headphone jack when it comes to the MacBook Pro. All of your headphones will work as normal with no need for adapters or new connections.
KitGuru Says: I've always quite liked the MacBook Pro line, though I wish Apple would stop expecting users to carry around a bunch of adapters with them everywhere they go. There is no reason to exclusively use Thunderbolt 3 ports when USB ports would fit just fine. That said, the SSD upgrade seems to provide a nice boost and the Touch Bar seems quite useful, though we still need to see how many third-party apps will support it.